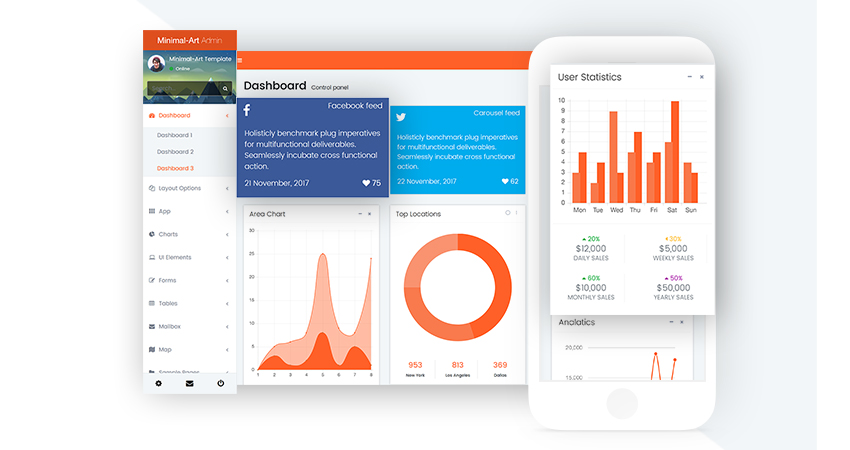 Major benefits of using Admin Templates
Reading Time:
2
minutes
When you are in the process of creating an admin dashboard, you should take a look at the Admin Templates. That's because the admin templates are in a position to make the life easy for you at the time of creating the dashboard. You will be able to get all the work done with the support offered by the admin templates. To convince yourself, let's take a look at some of the most prominent benefits that the responsive admin templates will be able to offer.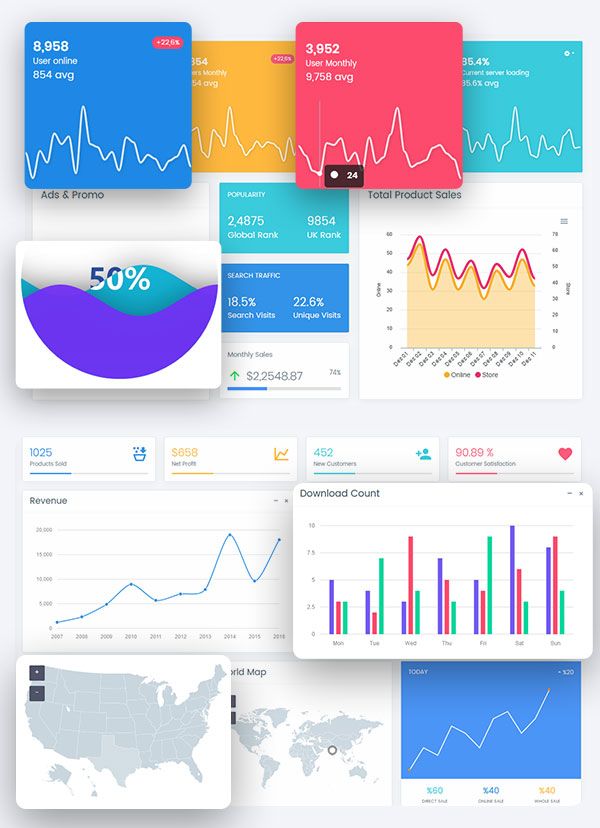 Speed is one of the biggest reasons that you will be able to consider going ahead with the administrative templates. The process of building an Admin Dashboard from the scratch can be time consuming. However, this process can be quite similar to the process of building a wheel from the scratch. You already have the wheel and you just need to do some customizations before using it. There is no need to reinvent the wheel. While keeping that in mind, you can take a look at the admin templates and get your work done with ease.
The Bootstrap Admin Templates are highly effective as well. Along with speed, you can also get effectiveness, this can deliver a quality experience to you in the long run. You will be able to get some productive benefits out of the admin template. This can help you to get your work done without facing any issues. Hence, you will never regret about the idea that you came up to use the admin templates and move forward.
No comprehensive coding skills are needed
To work with the Admin Panel, you will not need to have any comprehensive coding experience. The basic knowledge you have on CSS, HTML and JavaScript can benefit you at the time of getting the admin template created. That's because the components and functionality is already developed. You just need to follow the steps and get the job done at the end of the day. This will deliver a convenient experience for the developers as well.
You will also be able to receive a high level of flexibility out of the Dashboard Admin Template that you are using. This is something that has motivated lots of people to use them. You will be able to get your exact requirements catered with the support that is available with the admin templates. Hence, you will not have to do any custom coding. You can always find workaround solutions to get the work done.
They are mobile responsive
If you can get your hands on the Responsive Admin Dashboard Template, you don't need to worry too much about opening them I the mobile devices. That's because the templates are fully mobile responsive, and you will be able to get the job done without facing any struggles. There is no need to make them mobile responsive again.
Keep these benefits in mind and start using the admin templates.
MultiPurpose Admin Templates is our most advanced, best-selling, and highest-rated Templates to date. Everything you would expect and more from one of the most popular Dashboard Admin Template related websites out there! www.multipurposethemes.com.