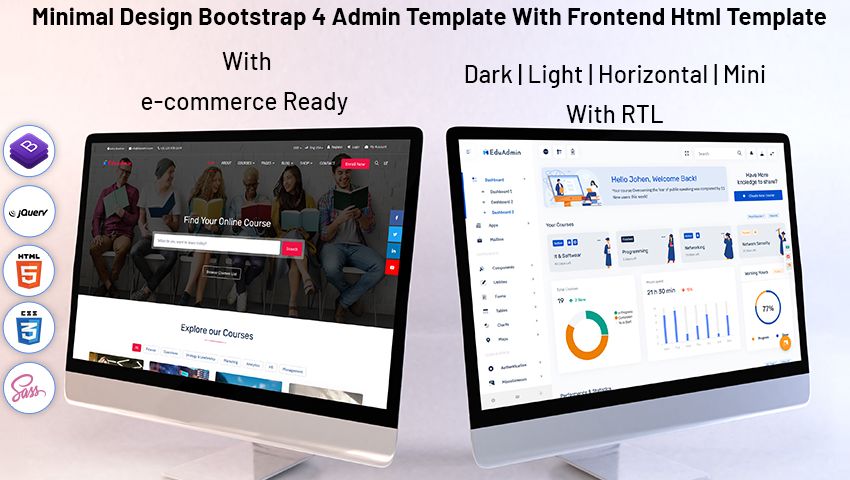 Trending Responsive Bootstrap 4 Admin Templates for 2021
Reading Time:
3
minutes
As we move on to a bigger and brighter 2021, MultiPurpose themes are expanding our collection of premium and responsive Bootstrap 4 Admin Templates in 2021. Our collection of Dashboard Admin Templates will receive some major updates, additions and improvements in the coming year. If you have been following our products, we have already updated many versions of existing themes.
1.   EduAdmin Responsive Bootstrap Admin Template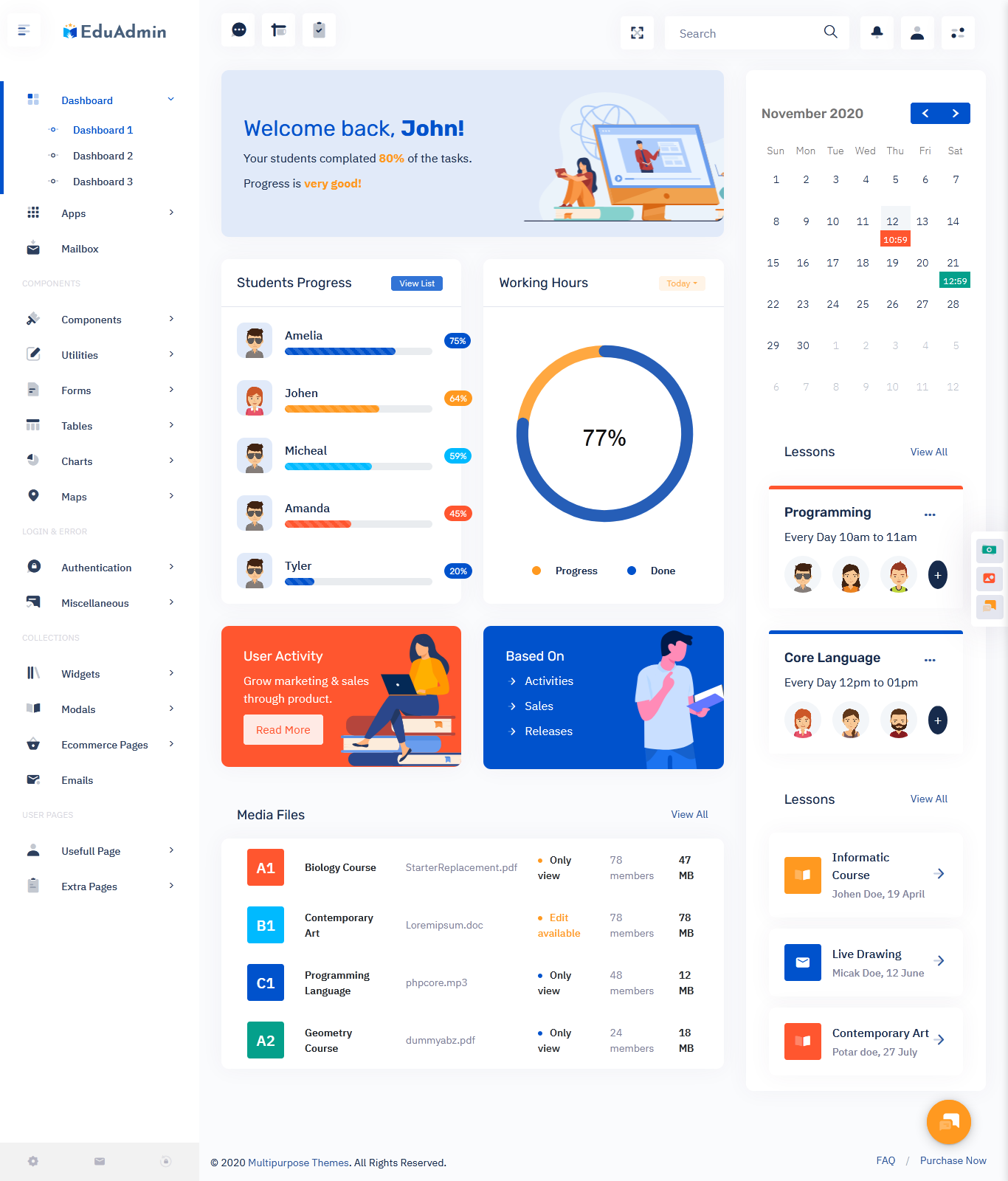 This is a unique dashboard Admin Template that helps you manage your orders, revenue, shopping, sales, monthly revenue and performance. It uses a clean design that is specifically customized for online applications in the education, learning apps and edTech sector.
EduAdmin's clean, modern and attractive design that is intuitive and user-friendly makes things easier if you are managing an educational website or app.
Some key features include:
50+ frontend pages
SASS and RTL support
Multiple dashboard layouts in theme options
Bootstrap version 4.5x
Modals and notifications
Variety of form components
2.  Champ Admin Responsive Admin Dashboard Template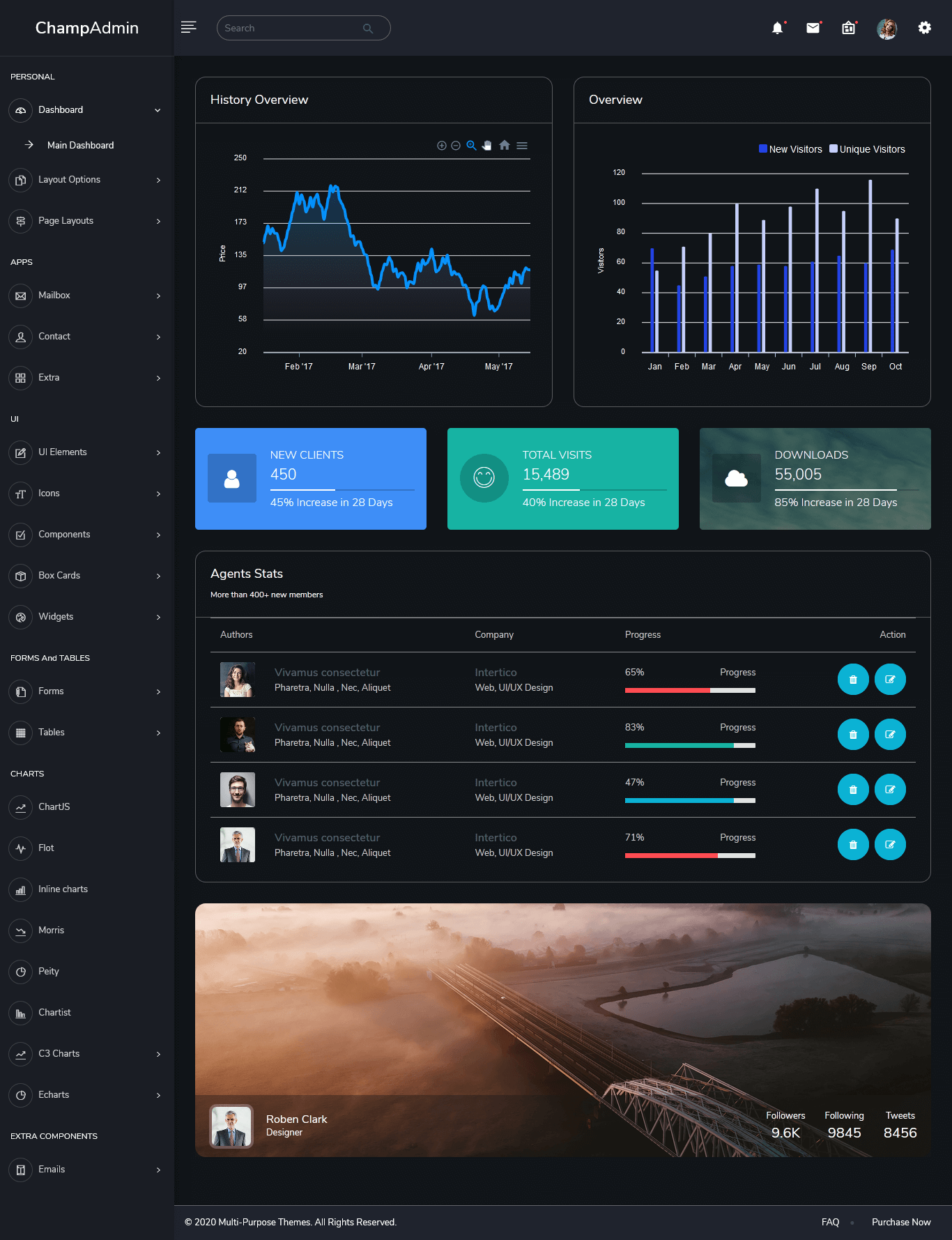 Champ is a Responsive Bootstrap 4 Admin Template that is ideally for any analytical admin process. You can track and analyze your task stats from the HTML template plugins and widgets. It has a modern looking design and has a host of features and functions including:
Tracking Notification and Sales Volume
3 layouts and 100+ HTML Pages
4000+ font icons
200+ UI components
85+ plugins
Responsive Bootstrap 4 Admin template
Support for various chart types
3.  DashboardX Bootstrap 4 Admin Template
This Bootstrap 4 Admin Template can be used for dashboard applications for your income and performance tracking. It follows the unique look and feel of a CRM software template. DashboardX is fully responsive and built on top of Bootstrap 4.2 along with SASS.
Some highlights of DashboardX:
3 different layouts
3 skins
125+ HTML pages
4000+ font icons
450+ UI components
85+ plugins
Remember, that Bootstrap 5 is already on the horizon. We are geared up to launch some exciting themes and provide our customers with the best of responsive Bootstrap 4 Admin Templates to run their website backends efficiently.
MultiPurpose Admin Templates is our most advanced, best-selling, and highest-rated Templates to date. Everything you would expect and more from one of the most popular Dashboard Admin Template related websites out there! www.multipurposethemes.com.
More Features
UI Kit
Badges
Buttons
Floating Action Buttons
Carousel
Modal
Dropdown
Dropdown menu
Sortable
Nav
Breadcrumbs
Pagination
Alert
Callout
Tooltip
Accordion
Tab
Process
Progress bar
Spinner
Timeline
Timeline activity
User Cards
Sweet Alert
Notification
Advanced Medias
Badges
Dropdown grid
Dropdown menu
Dropdown
Border
Color
Draggable Portlet
Bootstrap Switch
Date Paginator
Horizontal Timeline
Nestable
Ribbons
Chart
ChartJS
Morris
Sparkline
Flot
Inline charts
jQuery Knob
Widgets
Statistic
Chat Box
Social
Weather
Blog
Chart widgets
List widgets
Social widgets
Pricing tables
Coming soon
Live Chat
Calendar
Mailbox
Taskboard
Form
Default inputs
Material inputs
success inputs
warning inputs
error inputs
Combine inputs
Custom checkboxes
Custom radios
Password strength
Form layouts
Color picker
Date time selector
Select picker
Upload buttons
Form Validation
Form Wizard
Code Editor
Markdown
Xeditable Editor
Formatter
Pre-made Forms
Extra pages
Support Ticket
Invoice
Profile
Login
Register
Lockscreen
404 Error
500 Error
Blank Page
Pace Page
Recover password
Maintenance
Student Dashboard & Online Education Dashboard
Student Dashboard
Membership
Courses List
Courses Categories
Courses Details
Blogs (4 Style Blog Pages)
Blog Detail (8 Style Details pages)
Widgets (50+ widgets)
Typography
About
Invoice
FAQs
Testimonial (4 Style)
Staff
Contact
Register & login (2 Style)
Forgot Password
Lock Screen
Under Constructions
404
500
Shop Categories
Shop Cart
Shop Checkout
Shop Details
Shop Orders
Header (5 Style)
Footer (6 style)
Search Bar (2 Style)
Megamenu
Sass base css
Language Dropdown
Currency Dropdown
Videos
Counter
University Slider
Vertical Slider