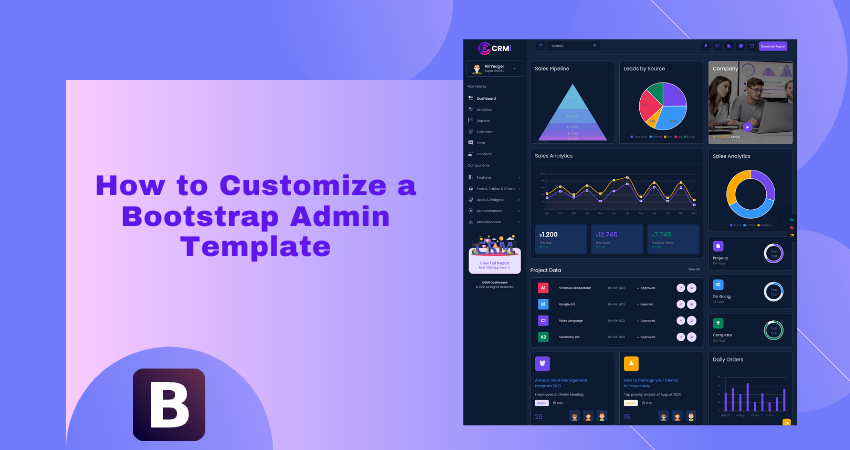 How to customize a Bootstrap Admin Template and Admin Panel
Reading Time:
3
minutes
This article should address all of your queries about whether or not you require an Bootstrap Admin Template for your project. We'll go through why and when you should utilize an admin panel template instead of starting from scratch when constructing a dashboard. We'll also take a look at a free admin template to get you started. Any person who wonders how to work with Admin Templates can take a look at this.

What are the benefits of using Bootstrap Admin Templates?
It might be challenging to build an admin panel from the ground up at times. When you consider everything from design to programming to testing, fine-tuning, and bug patches, you're looking at hours of development time. This might take anywhere from 500 to 1,000 hours, depending on the dashboard's complexity and all of the functions it should offer. These dashboards must then be tested on a number of browsers and devices to ensure that they function properly on each. Because the back-end panel is so important, finding, and correcting problems will require a significant amount of development time.
In terms of money, it may cost anything from $25000 to $60,000. Sure, you could hire someone to do it for less money but choosing a dashboard template to save time and money is by far the best option. Why spend so much money on a single template when you can get one for a fraction of the price? If you can't afford to pay, there are a plethora of websites that provide free admin template options. Even if you don't know how to code, most of these themes are straightforward to work with and modify. Believe me when I say that we've simplified them to the point where our templates are more popular than those of our rivals!
What are some ways that Bootstrap Admin Templates may make your life easier?
There's also a new option available. Basic admin panels come included with CMS platforms like WordPress and are intended to be used for certain purposes exclusively. WordPress admin panels are fantastic for managing content, while e-commerce solutions like Shopify are fantastic. If you need more flexibility, you might want to explore designing an admin panel that is customized to your needs. This is exactly what a Bootstrap 5 Admin Template offers. It allows for a lot of flexibility and interaction with your career, whatever it is. You can have a website that requires you to use a marketing dashboard. The admin panel of a CRM web platform, for example.
You have total control over each component while working with a dashboard template. Everything about it can be customized, from the features to the appearance. You may make as many pages as you like, and each one can be readily edited. You may accomplish all of this when you select an Admin Panel Dashboard template. Unless your requirements are covered by one of the easily accessible dashboards, you'd be better off with a customized dashboard.
How customizable can an admin template be?
The number of ways to change a template is limitless. When browsing for an admin template online, pay close attention to the style and features of the template. If you plan to modify your dashboard, these concerns are likely to be more essential. Everything, from the colors of each page to the quantity of shadows you want on each component, may be fine-tuned. Thousands of icons, ready-made components, and code snippets are available to help you build the admin panel of your dreams. You may make modifications to the design of a page that will be reflected on other pages by using SCSS.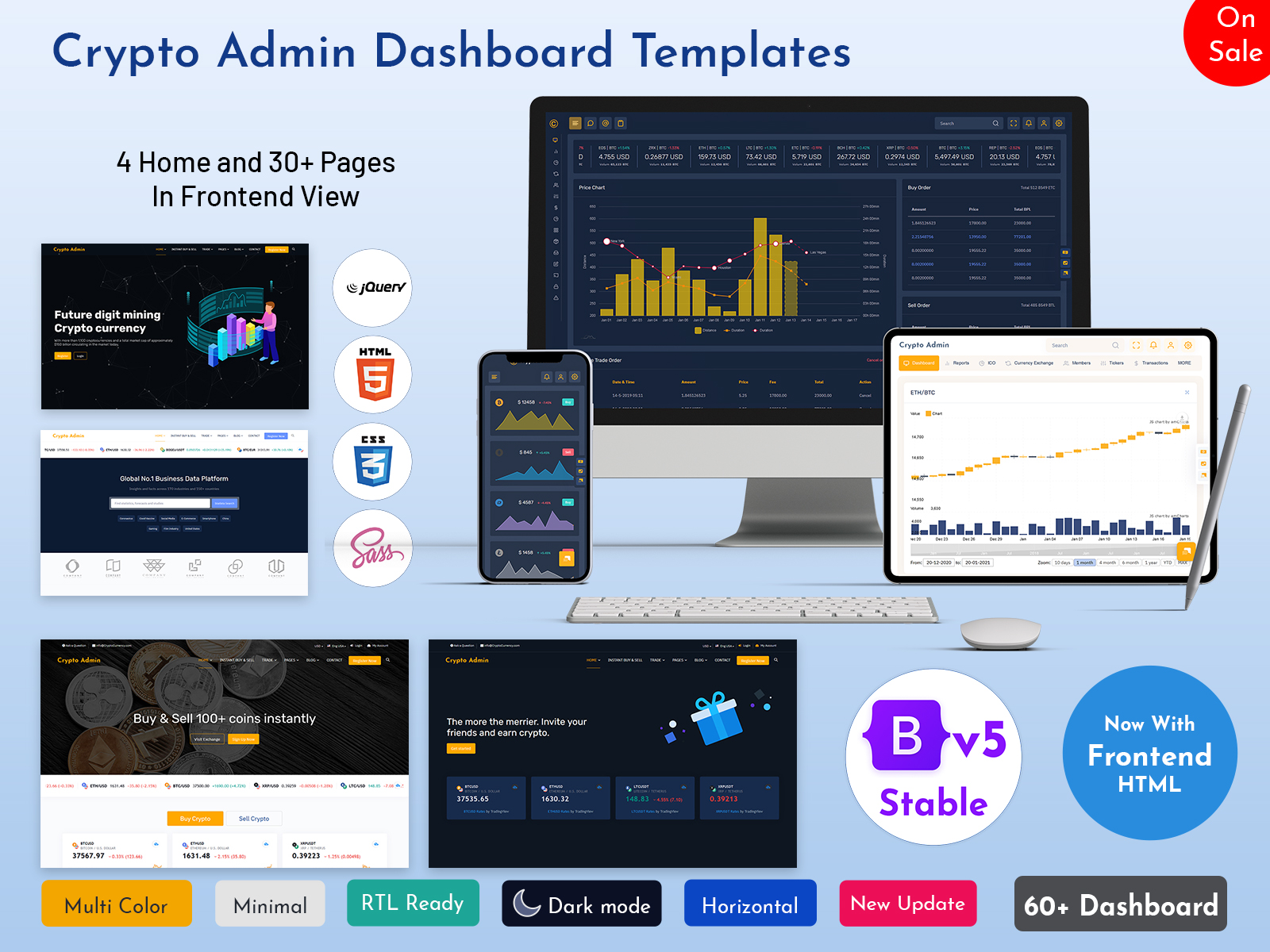 Despite the fact that admin themes may be substantially changed, it is preferable if you can choose a template that meets your tastes. Consider utilizing a Cryptocurrency Admin Dashboard Template as an example. A Bootstrap 5 admin template like this might help you save time and effort when it comes to customizing. A Crypto Admin Template, for example, may be chosen by anyone who wants a Bitcoin dashboard theme. Finding such a cryptocurrency dashboard template will never be a struggle for you as well.
A dashboard template may be used in a variety of applications, including CRM, HRM, and even healthcare. Marketing dashboards, CRM Dashboard, and even medical dashboards are all accessible as templates that may be customized to match your specific requirements.