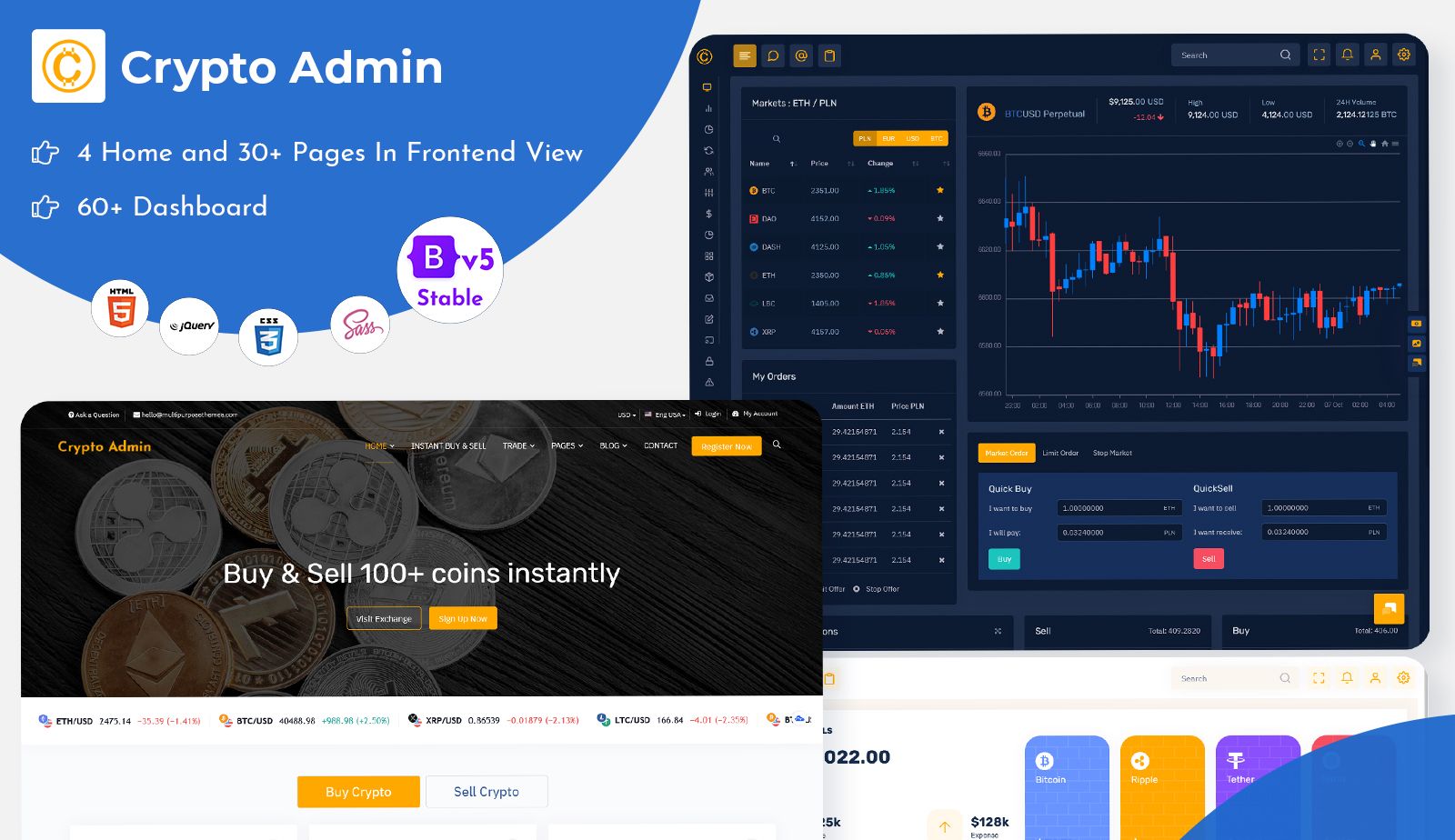 Selecting Bootstrap Crypto Admin Templates and customizing them
Reading Time:
3
minutes
If you're unsure whether or not you need a Crypto Admin Templates for your project, this article should answer all of your questions. We'll go over why and when you should use an admin panel template instead of building a dashboard from the ground up. We'll also look at a Premium Admin Template that might help you get started.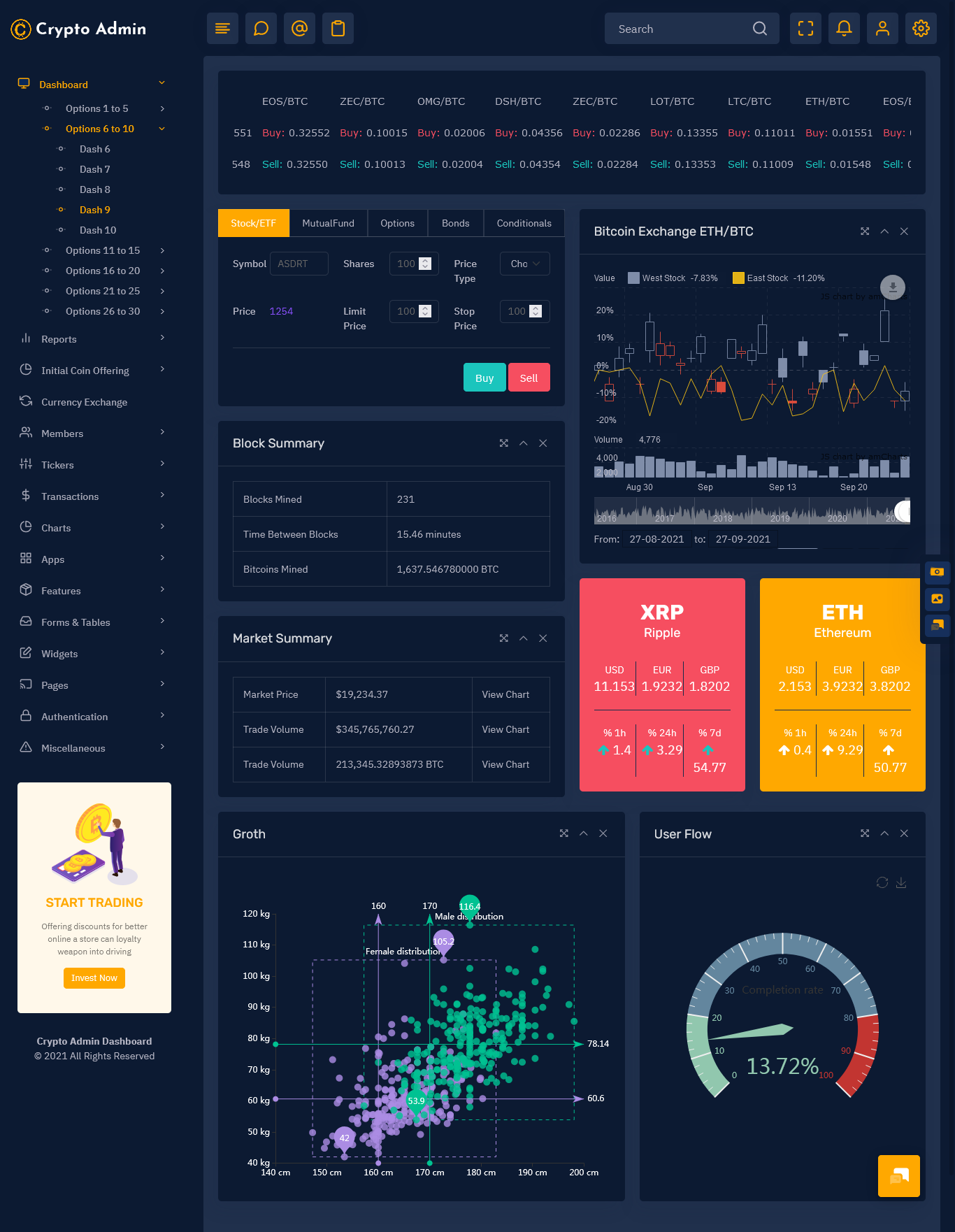 Why should you use Bootstrap Admin Templates?
Creating an admin panel from the ground up might be difficult at times. You're looking at hours of development time when you consider everything from design to programming to testing, fine-tuning, and problem fixes. Depending on the dashboard's complexity and all of the features it should include, this may take anywhere from 500 to 1,000 hours. These dashboards must then be tested on a variety of browsers and devices to ensure that they run smoothly and efficiently on all of them. Because the back-end panel is so essential, discovering, and fixing issues will take up a lot of development effort.
It might cost anything from $25000 to $60,000 in terms of money. Sure, you could hire someone to do it for less money but saving time and money by using a Cryptocurrency Dashboard Admin Template is definitely your best choice. Why spend so much money when you can acquire a single template for a fraction of the cost? If you can't afford to pay anything, there are many of websites that provide free admin template alternatives. Most of these themes are simple to work with and change even if you don't know how to code. Believe me when I say that we've made them easier to work with so that our templates are more popular than those of our competitors!
How can Bootstrap Admin Templates make the life easy for you
There's also another choice now. Basic admin dashboards are included with CMS platforms like WordPress and may be used for particular reasons only. WordPress admin panels are excellent for content administration, and e-commerce platforms like as Shopify are excellent. However, if you want more flexibility, you might consider creating an admin panel tailored to your requirements. This is exactly what a template for an admin panel provides. It enables extensive customization and integration with your work, whatever that job may be. You could have a website that necessitates the use of a marketing dashboard. For example, a CRM online application's Admin Panel.
When working with a Crypto Dashboard template, you have complete control over each component. Customize everything about it, from the features to the appearance. You may create as many pages as you like, and you can easily edit each one. When you choose an admin panel template, you may do all of this. You'd be better off with a bespoke dashboard unless your requirements are met by one of the easily accessible dashboards.
How much can an admin template be customized?
The possibilities for modifying a template are endless. When looking for a Crypto Admin Templates online, pay special attention to the template's layout and all of its features. These considerations are likely to be more important if you intend to customize your dashboard. Everything may be fine-tuned, from the colors of each page to the number of shadows you want on each component. Thousands of icons, ready-made components, and code snippets are provided for you to utilize in creating the admin panel you like. With the usage of SCSS, you may make changes to the design of a page that will be reflected on other pages.
Even though admin templates can be heavily customized, it is better if you can pick a template that matches with your preferences. For example, you can think about using a Cryptocurrency Admin Dashboard Template. Such a Bootstrap 5 admin template can reduce the time and effort that you have to spend on customization. For example, anyone who wishes to get a Bitcoin dashboard theme can pick a cryptocurrency dashboard template.
A dashboard template may be used with everything from a CRM to HRM to even sectors like healthcare. Marketing dashboards, CRM dashboards, and even medical dashboards are all available as templates that can be readily adjusted to meet your needs.