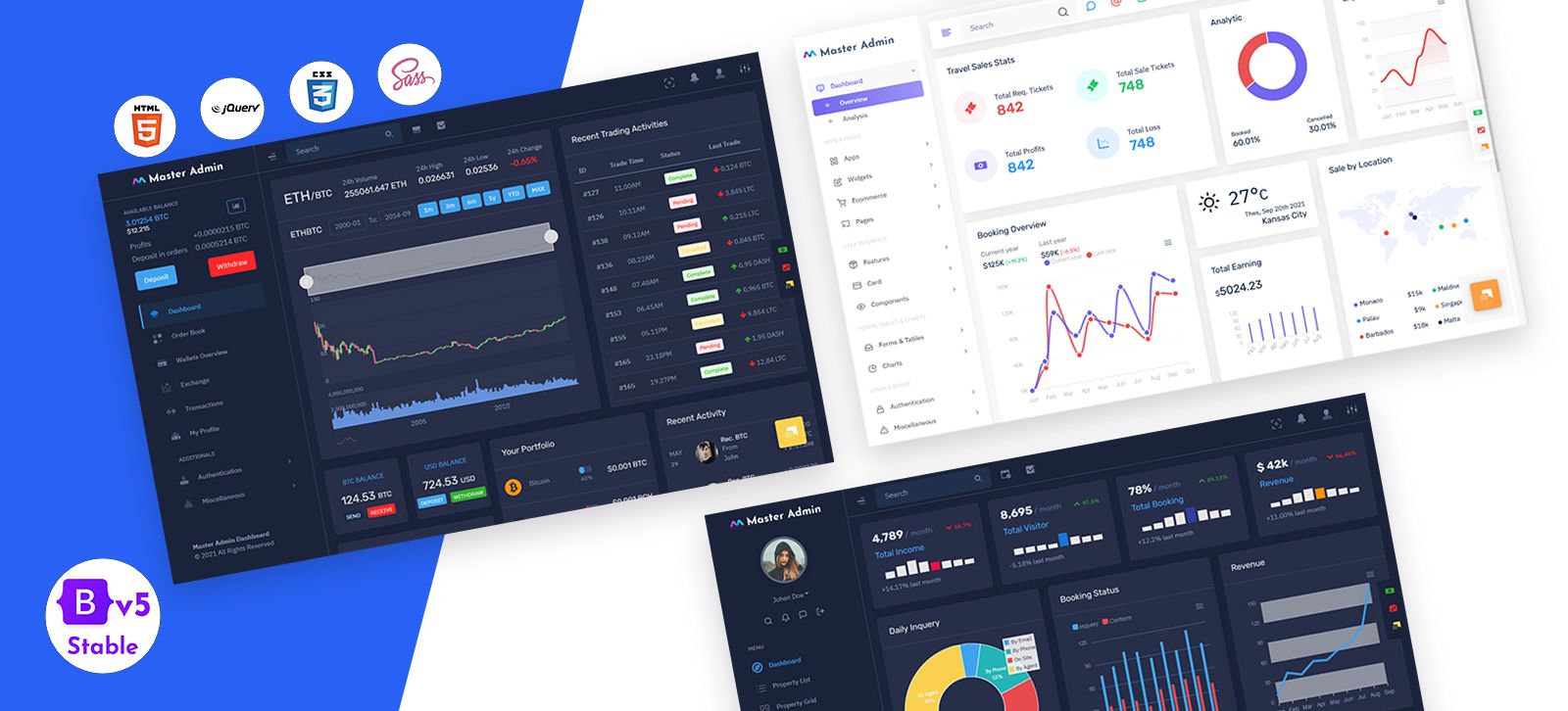 Can Bootstrap 5 Admin Templates make the life easy for you?
Reading Time:
3
minutes
Are you provided the task of developing an admin dashboard? Then you should be taking a look at Bootstrap. It is the most effective and most recommended method as of now for the people to go ahead with creating their Bootstrap 5 Admin Templates. You will never have to worry too much about anything when you are creating an admin dashboard with the help of Bootstrap. That's because it is offering numerous shortcuts, which can assist you to save your time and develop a fully-functional admin dashboard.

Can Bootstrap help you with developing an admin dashboard?
Yes, Bootstrap can provide much-needed assistance to you when you are trying to develop an admin dashboard. This is where the Bootstrap Admin Dashboard Templates will come into play. The Bootstrap 5 Admin Templates are the pre-defined templates, which you can use to add functionality and look and feel to the dashboard that you are working on. Once you start using a template, you can make sure that you don't have to focus on those aspects on your own. In other words, you can save the time that you will have to spend with the custom developments. You just need to experience the benefits that you are getting, along with the ability to save your time.
Other benefits that you can get out of Bootstrap admin templates
A Bootstrap Admin Template will not just help you with saving time and refraining from some of the custom coding work that you have to do. It is also possible for you to use the Bootstrap admin template and experience numerous other benefits. Let's take a quick look at some of those key benefits that you can receive.
They offer cool styles
The Bootstrap 4 admin templates are offering the coolest styles that you can ever ask for. You will be impressed with the good looks of these styles and the way how they look. It will be possible for you to get the users to fall in love with the templates because of the cool designs that you have in them. The best thing about these cool styles is that you don't have to do anything to enable them. They come along with the package, and all you have to do is to start using them and get the job done. This will help you to receive the maximum returns that the admin templates are capable of offering.
In order to get the maximum benefit out of this, you will need to make sure that you are selecting the right place to download Bootstrap Templates. Once you visit the right website, you will be impressed with the massive collection of admin templates that are available to you. All you have to do is to go through them and pick the best admin template out of the,
They are browser compatible
At the time of developing an admin dashboard, you will need to focus more on browser compatibility as well. If not, it will not be possible for you to deliver the best user experience with your Bootstrap 5 Admin Dashboard. Along with the help of a Bootstrap admin template, you can ensure browser compatibility as well.
In fact, Bootstrap is browser compatible by default. You will be able to further enhance browser compatibility with the elements that are coming to you along with Bootstrap. This can deliver a perfect overall experience to you while you are using Bootstrap for getting work done.
Start using Bootstrap admin templates now
Bootstrap is one of the best and most helpful frameworks available to you as of now in order to go ahead with developing an Admin Dashboard. You will be able to develop the most effective Admin Panel Dashboards that you can ever think of with the help and support that Bootstrap is offering. You will need to keep this in mind and take a look at the Bootstrap Admin Templates that you can get hold of. Whether you are trying to get assistance with documentation or you are trying to enhance good looks with cool styles, Bootstrap will be the perfect option available for you to consider as of now. Look no further before you start using it.
Multipurpose Bootstrap 5 Admin Templates is our most advanced, best-selling, and highest-rated Template to date. Everything you would expect and more from one of the most popular Bootstrap 5 Admin Dashboard–related websites out there! www.multipurposethemes.com.