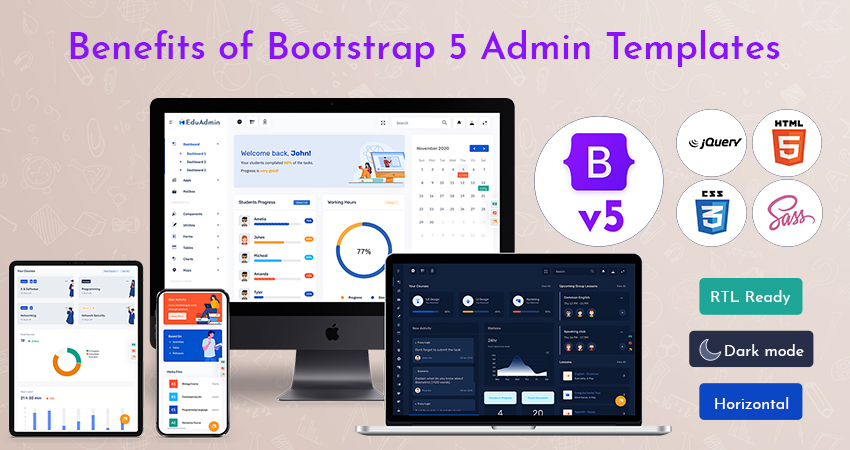 Benefits of Bootstrap 5 Admin Templates and Alternatives Available
Reading Time:
3
minutes
Many developers out there prefer to get their work done with the help of Bootstrap. In fact, you can call them enthusiastic fans of Bootstrap. The main reason why they have fallen in love with Bootstrap is that it is helping them to get their work done in a more convenient way. In fact, no developer who is using Bootstrap will come across the need to reinvent the wheel. While keeping that in mind, it is worthy to deep dive and learn more about the benefits that come along with Bootstrap 5 Admin Templates. Then you will be able to decide why you should be using Bootstrap to get your work done without a problem.

Bootstrap is mobile responsive
Bootstrap is offering mobile responsive admin templates. Hence, you don't have to worry about making them mobile responsive. The admin templates would be mobile responsive by default and you just need to use them and get your work done. You will be able to pick a Bootstrap 5 Admin Dashboard Template that matches your needs and simply start using it.
When you are developing a web app in today's world, you cannot ignore mobile responsiveness. That's because most people prefer to use their mobile devices in order to get their work done. While keeping that in mind, you can take a look at the admin templates that Bootstrap is offering. This is where you will notice how the admin templates are capable of maintaining wide browser compatibility. You will be able to get a consistent design out of these templates. You can also use reusable components in order to get your work done. Hence, you will never have to worry about any challenges when using the Admin Templates.
You can find Bootstrap 5 Admin Templates to cater to all your needs
Another reason why the developers prefer to go ahead with Bootstrap admin templates is their availability. You will notice that many different variations of admin templates are available for you to use. You just need to browse through the collections of admin templates and pick something that you can use without a problem. For example, if you are planning to develop an admin dashboard for a crypto platform, you may take a look at the crypto admin templates. On the other hand, people who want to develop the admin dashboard of an online learning solution may take a look at the LMS admin templates, e-learning admin templates, and Crypto Admin Templates. It's just a matter of finding the perfect admin template that is matching with the needs that you have.
You can get numerous common UI components
As you continue to use the Bootstrap Admin Templates, you will also notice how they are offering numerous common UI components. These UI components will help you to get the maximum returns out of what is available. In other words, you will not have to spend your time extensively on building the UI. You can use the existing UI components to handle multiple devices, browsers, and resolutions. It is also delivering rich extensibility to you along with JavaScript. For example, you can get in-built support for the programmatic JavaScript API and jQuery plugins.
You will be able to use Bootstrap with any IDE
There is no need for you to use a specific IDE in order to go ahead with using Bootstrap. That's because you have all the freedom to use your existing IDE or editor so that you will be able to get the developments done. On the other hand, you will also notice how you have the freedom to use any server-side technology as well as language to get the job done with Bootstrap.
Final words
Now you have a good overall understanding of the benefits that Responsive Bootstrap 5 Admin Templates would offer. Hence, you will be able to go ahead and get your work done with the help of the right admin templates. Always find a reputed platform where you can get your hands on the admin templates. Then all you have to do is to use the right templates and get your work done.
MultiPurpose Admin Templates is our most advanced, best selling, and highest-rated Templates to date. Everything you would expect and more from one of the most popular Dashboard Admin Template-related websites out there! www.multipurposethemes.com.