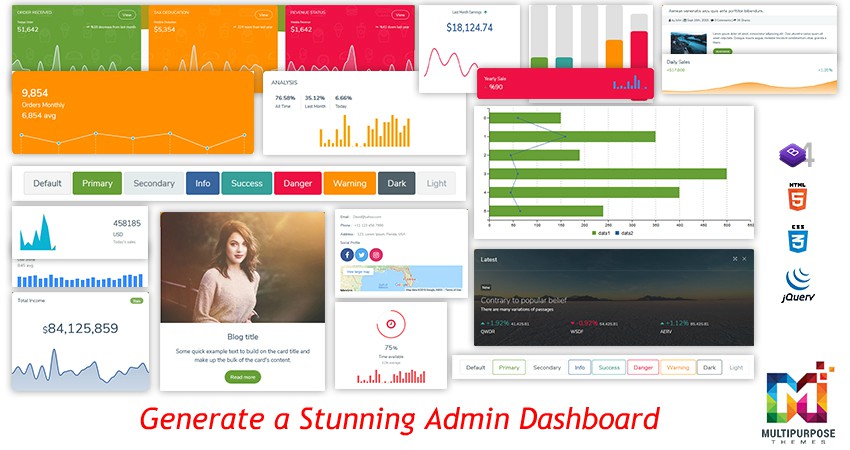 Steps That Will Generate a Stunning Admin Dashboard
Reading Time:
3
minutes
A dashboard is highly useful if you're the kind of person that likes keeping things under control. The dashboard will give you the chance to monitor the evolution of the most important parameters of your website and maintain a high level of user engagement. But, for this, you should be able to create the perfect Admin Dashboard in your case. How can this be achieved? Well, there are a few aspects you need to have in mind before creating a dashboard. Take a look at the list below and give answers to all of those questions. Once you're done, you will have the outline of the ideal dashboard.
Get to know your target audience very well
You cannot come up with a Dashboard Admin Templates that will serve you well if you don't know your target audience first. This type of information is useful not just for the creation of your dashboard, but also for other decision-making processes within your company. If you know your target audience, you will know what to deliver in order to get their attention. The same goes in the case of dashboards. Knowing the audience will let you know what kind of info is worth displaying and what structure to use.
Determine what's the best type of dashboard in your case
There are a few types of dashboards you can use. You can choose between an analytical dashboard, operational dashboard, or strategic Admin Dashboard Template. Each serves for a particular purpose and will display different metrics. This is why knowing your audience will be of great help in this case. At this part, you should also determine the Key Performance Indicators, to know what the user will want kind of details will the user want to see.
What kind of metrics would you like to see?
The area of interest and expertise of the users will give you a clear view of the type of metrics that are worth being displayed on the dashboard. The Key Performance Indicators, which were mentioned earlier, also count at this part. What you need to remember at this part is not to stuff the dashboard with metrics. Give the user the chance to extract the needed information with ease. So choose the metrics in a smart manner.
Don't make it complicated
Keeping things simple is probably one of the best things you can do. This means that you should not show more than 7 types of metrics on your dashboard. Also, the dashboard should be able to fit within a page. If it is longer, than it's no longer a dashboard, but actually a report, which means that you exceeded the set boundaries. You may want to keep the dashboard clean and all the important information in sight. We use our sense of sight a lot, so being able to find everything we need this way definitely makes things easier and more desirable.
Besides data, you should also consider insights
Data is important, of course, but providing insights is also a very good way to increase user engagement. So, don't just offer static data, but focus on offering great insight for each piece of information you display on the dashboard.
Go for visualization tools that actually help you
Once you know what type of data you will display, you will also know what kind of tools you need to make the dashboard functional and great looking. Some dashboards could use pie or donut charts, while others function better with a bar chart. Just make sure to use the tools that will best present the data you'll provide.
Everything you would expect and more from one of the most popular Bootstrap Admin Templates related websites out there! multipurposethemes.com.