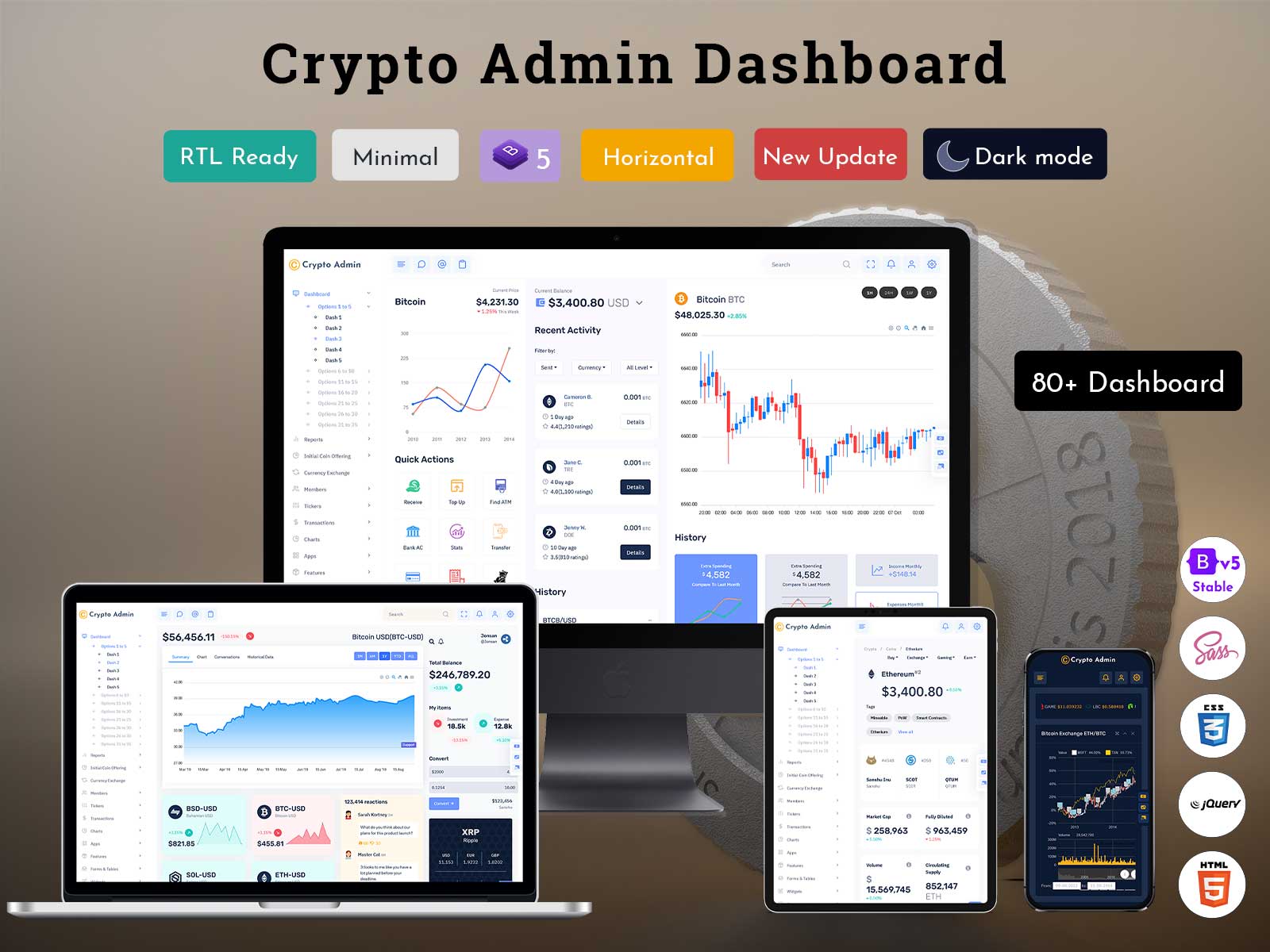 How can a Cryptocurrency Portfolio Management Dashboard Help You
Reading Time:
5
minutes
The task of managing asset allocations falls on cryptocurrency Portfolio Management Dashboard. Multiple projects may be monitored and managed by an organization's general management and executive level with the help of Cryptocurrency Dashboard portfolio management. It highlights important performance indicators for almost all of the projects the company is working on, as opposed to the project management Dashboard Design Template for a single project. By doing this, it gives cryptocurrency portfolio managers the authority to control asset allocations and rebalance them at their leisure.
Your project's progress, health indicators, and budget expenditure are monitored and measured by the cryptocurrency portfolio management dashboard using a variety of performance metrics. A Crypto Admin Templates is a reporting tool that cryptocurrency portfolio managers may use to provide owners with useful information. This is where you will need to build a perfect cryptocurrency dashboard with the help of a cryptocurrency dashboard template.
An essential component of the cryptocurrency portfolio management dashboard is color coding. It uses colors to show important information. For instance, green would indicate that everything is going according to plan, while red may indicate that you are moving in an unexpected route. Let's also explore how a cryptocurrency dashboard made out of the perfect cryptocurrency Responsive Web Application Kit benefit you.
Watch Video
LTR Dashboard Light – Crypto Admin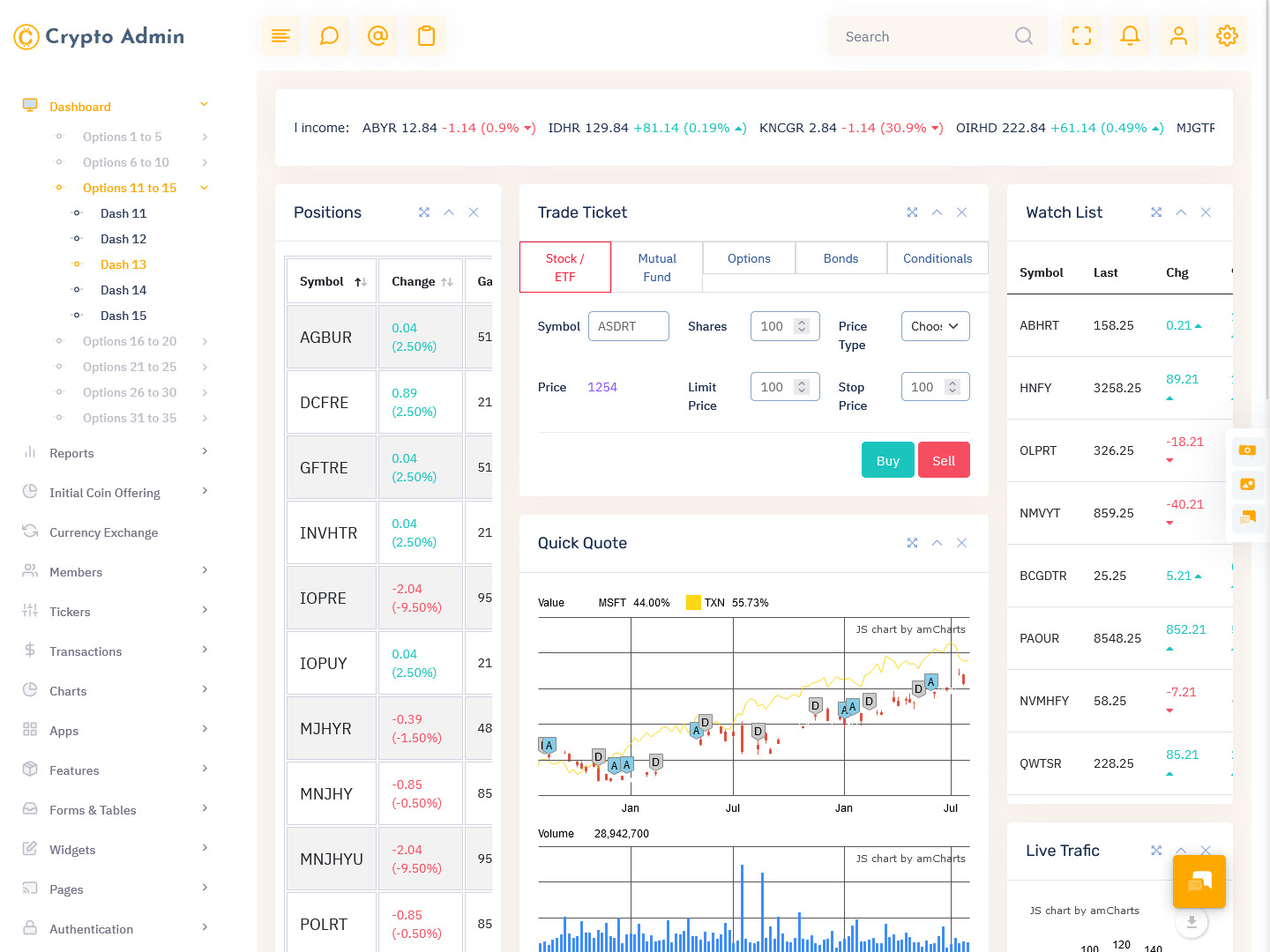 RTL Dashboard Dark – Crypto Admin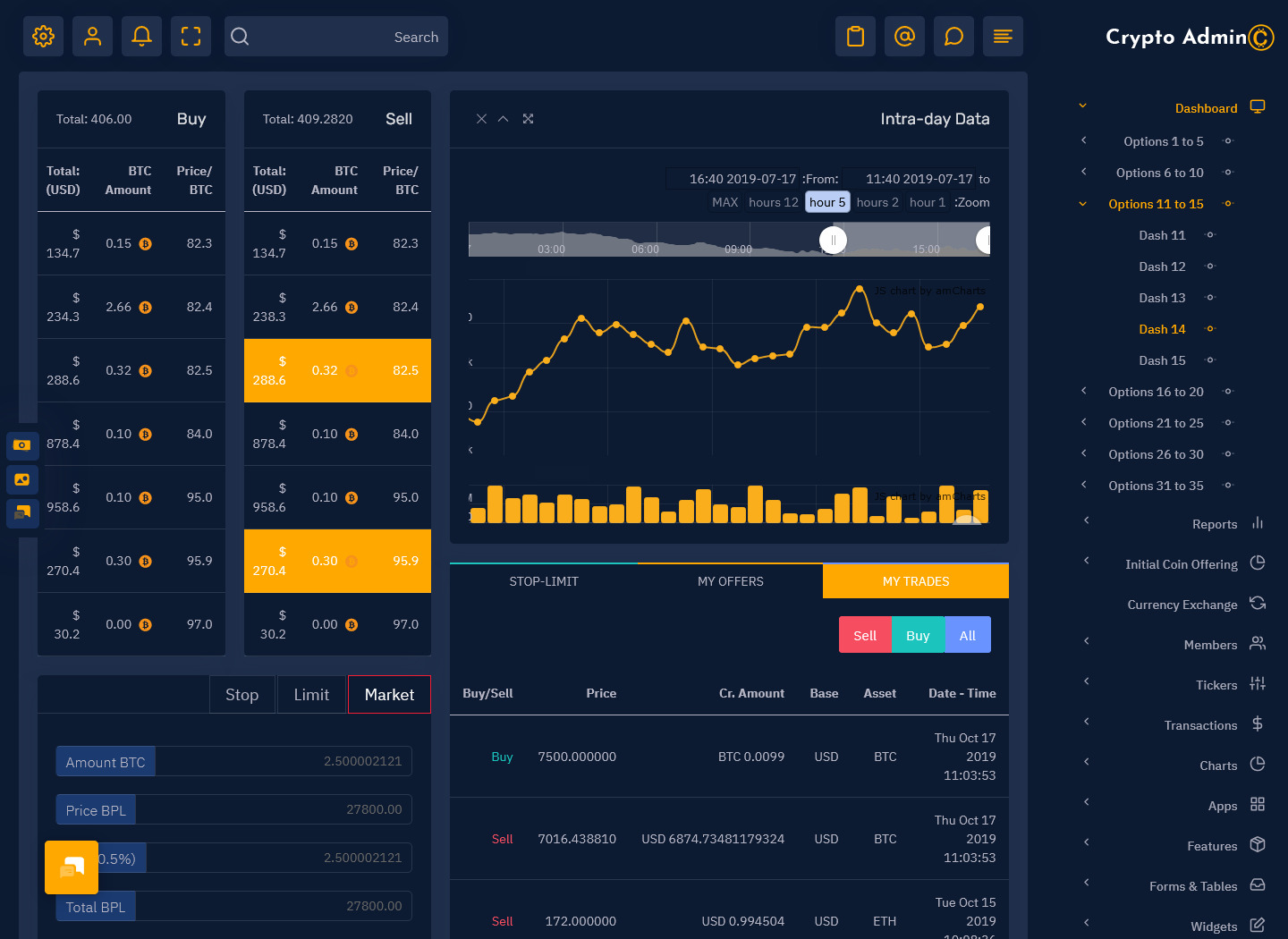 LTR Mini Sidebar Dashboard Light – Crypto Admin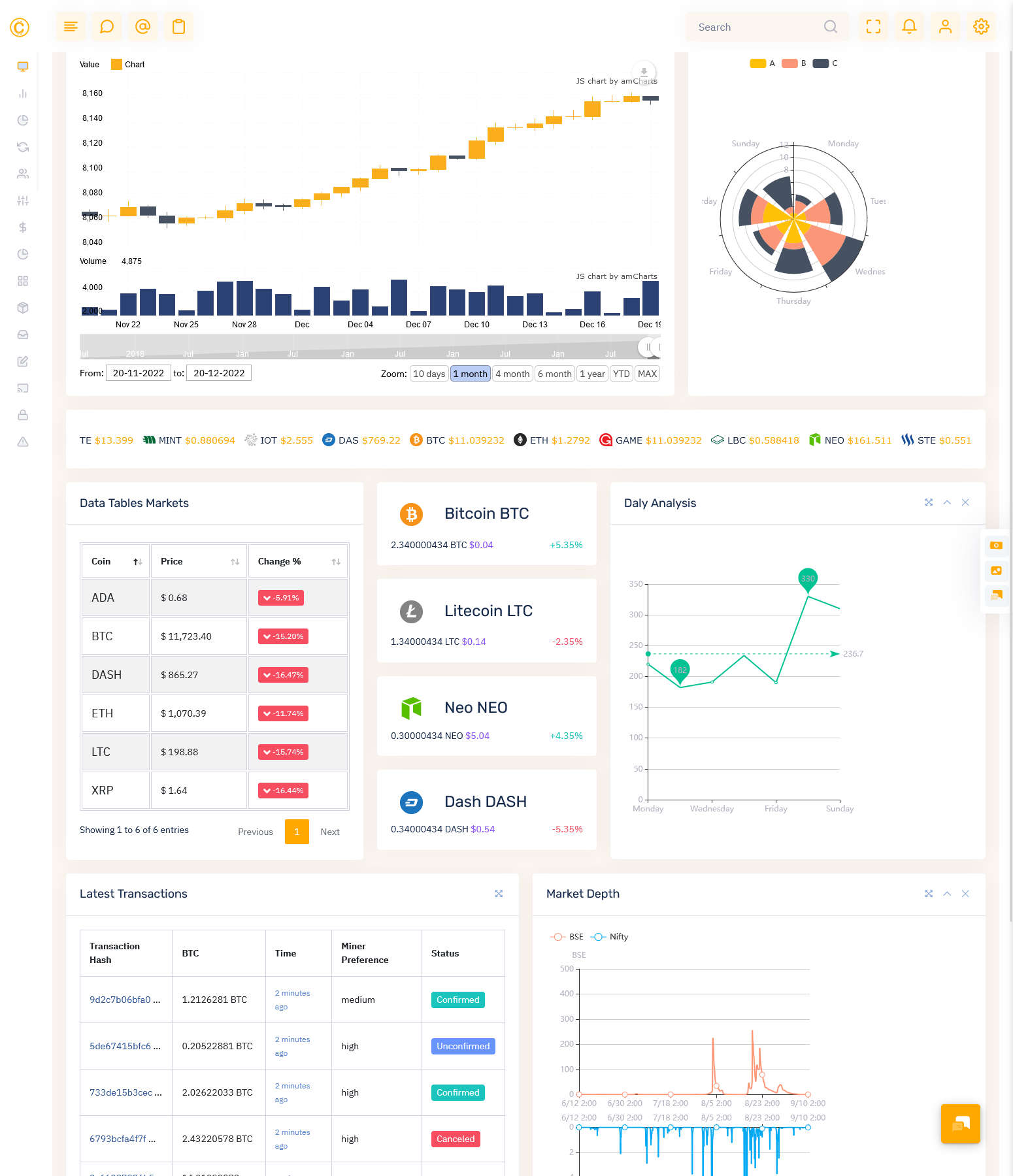 RTL Mini Sidebar Dashboard Dark- Crypto Admin
LTR Horizontal Dashboard Light – Crypto Admin
RTL Horizontal Dashboard Dark – Crypto Admin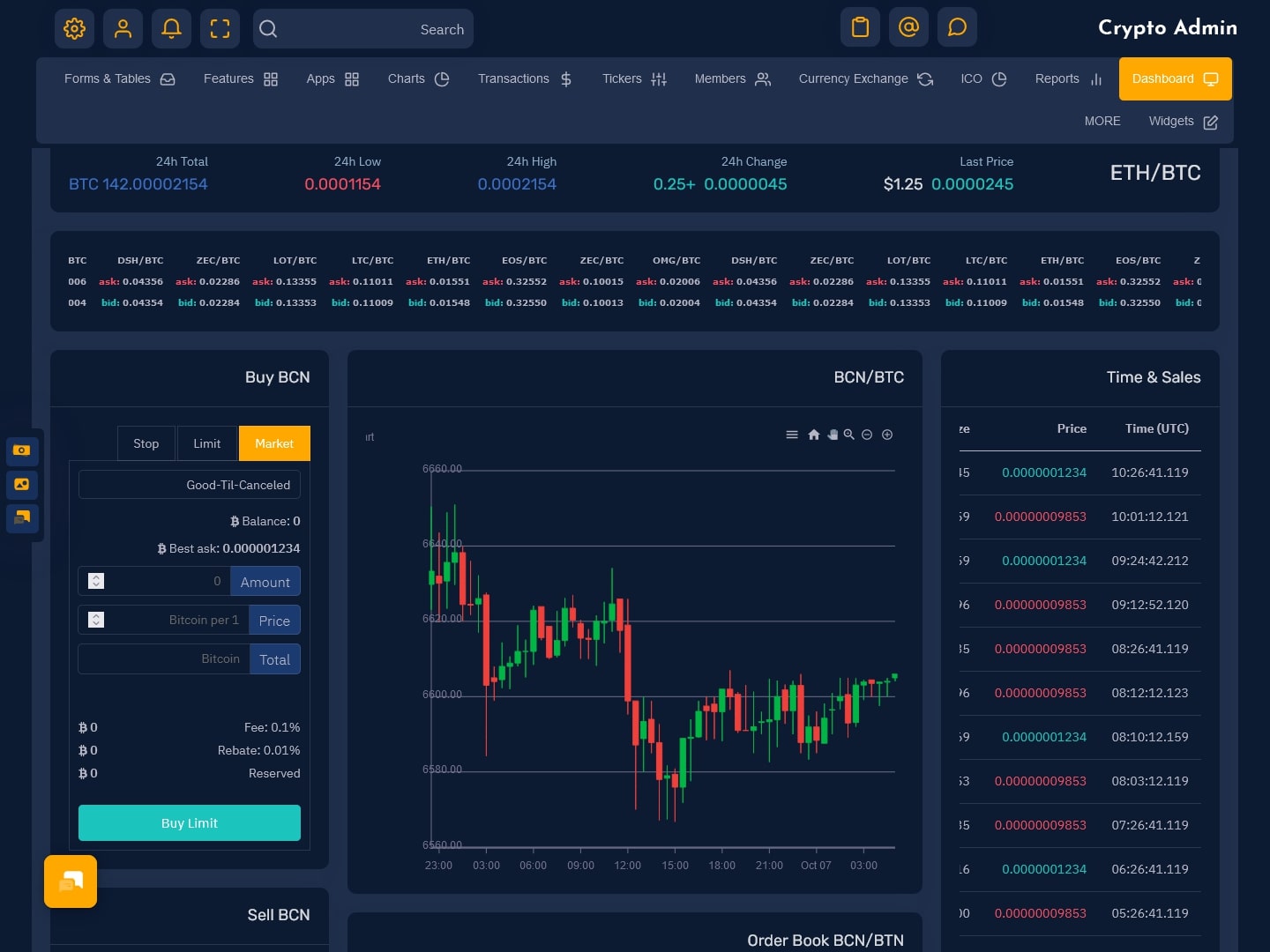 To see significant anniversaries and dates
There are always important anniversaries and milestones in your cryptocurrency portfolios that you do not want to miss. By keeping track of them, you can be sure that you are aware of the milestones to hit and what is expected to happen on certain dates. As a result, you'll be inspired to go above and beyond to complete the deliverables.
Owners and administrators of Cryptocurrency Dashboard Admin Template may incorporate real-time data from sheets and reports by using Smartsheet dashboard widgets. Even though your Bootstrap Templates may have started off as a blank sheet of paper, the interactive widgets give it structure. There are eight distinct widget kinds that you may personalize and arrange whatever you want. In particular, the chart-type widget generates a live chart that displays these dates and milestones for you.
To assist you in managing your budget
Any project should have a budget since it will save time and money. It is anticipated that you will make decisions that guarantee you stay within your budget via careful preparation. It advises you to avoid making pointless purchases that disregard your potential future earnings.
Budget creation and management are two distinct processes. Setting a budget entails approving how money is spent. It comprises keeping an eye on your expenditures to ensure that you stay within your spending limit.
The top Smartsheet Stock market Chart can assist you in properly managing your budget. Once users have finished entering data, you may analyze recommended budgets using these Stock market chart Dashboard as planning and analysis tools. Liquidity, income, and profitability are three main areas into which the visualizations may be divided.
Crypto Semi Dark Admin Dashboard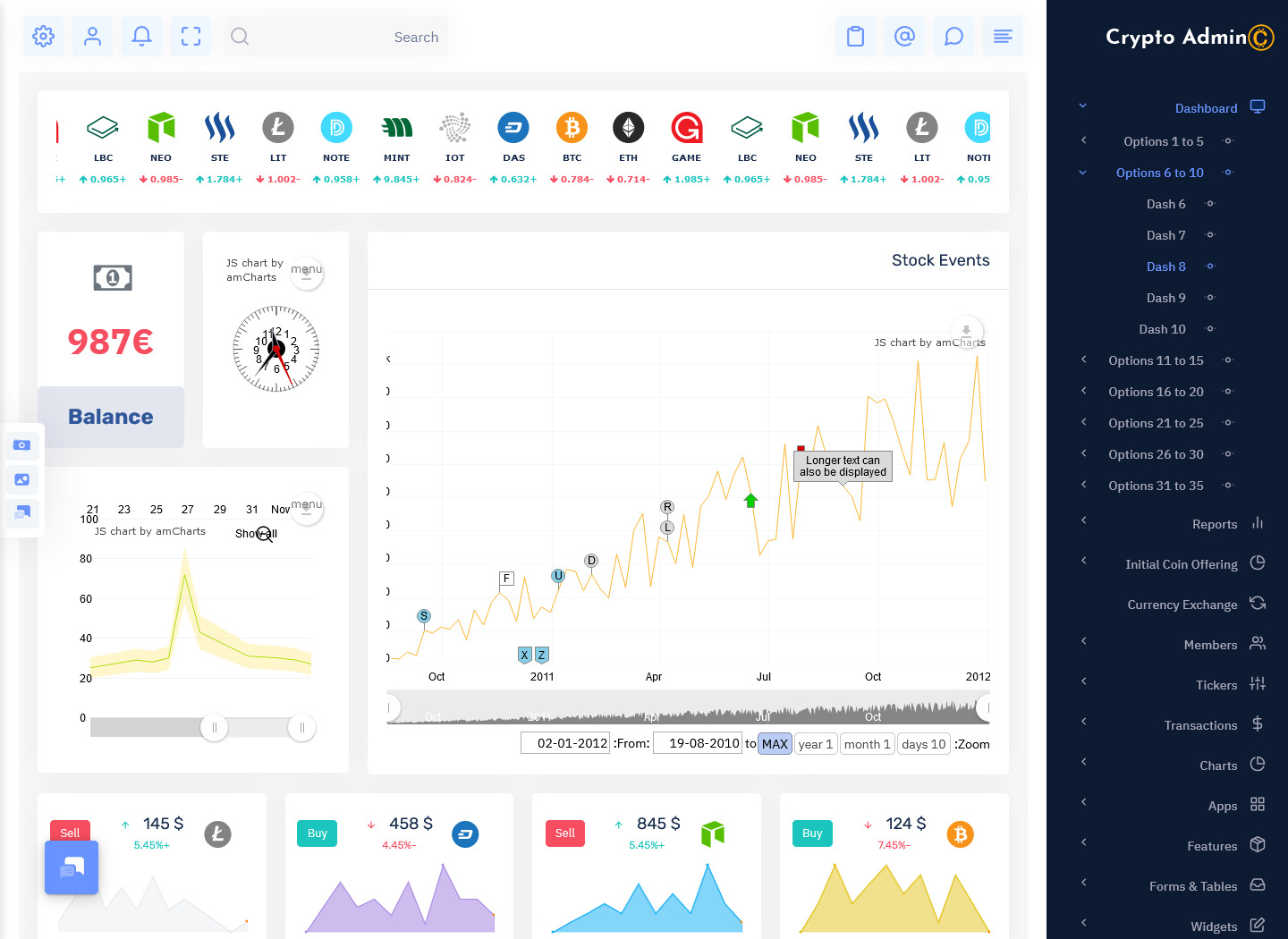 Crypto  Admin Dark Dashboard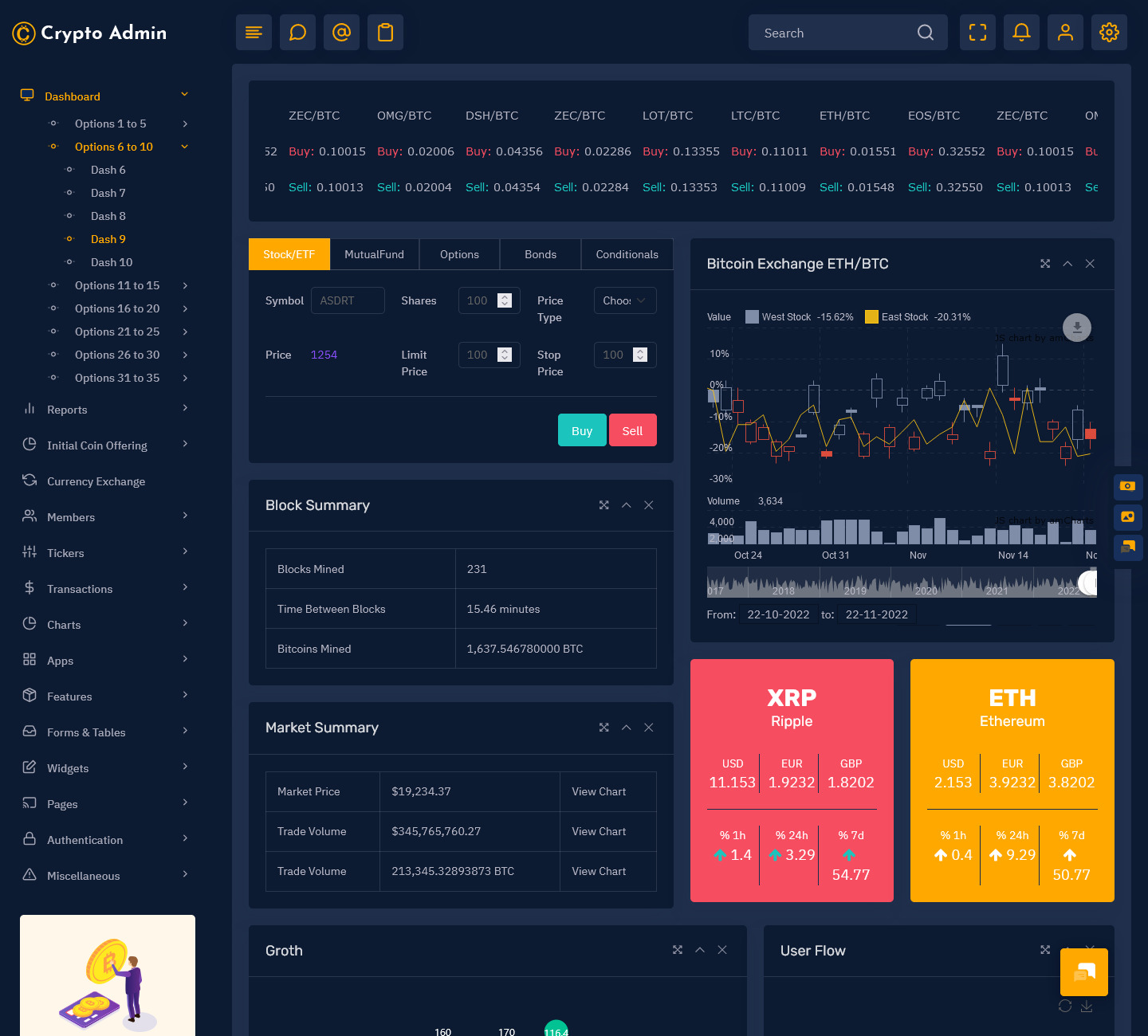 Crypto  Admin Light Dashboard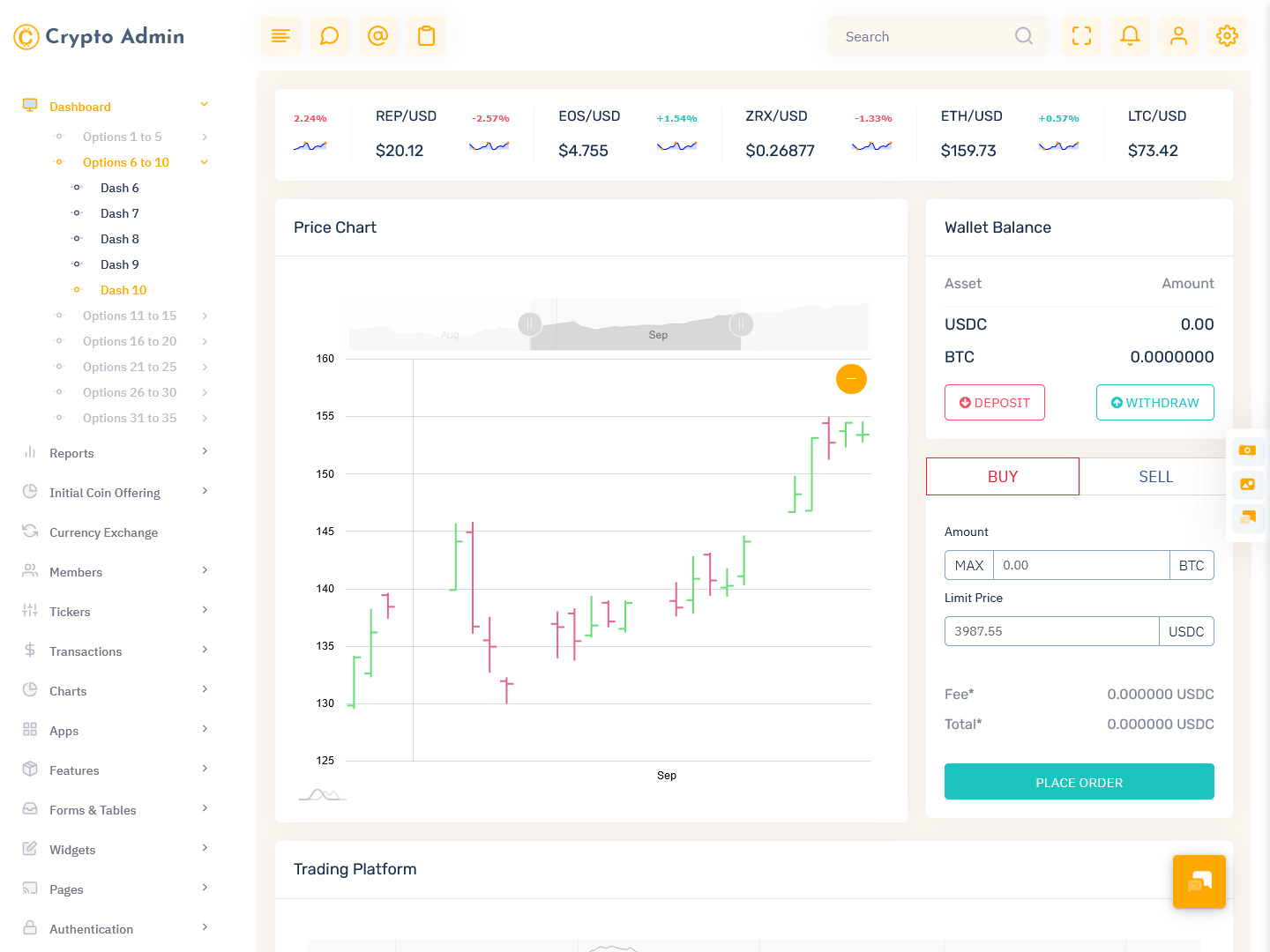 Crypto Mini Sidebar Admin Dark Dashboard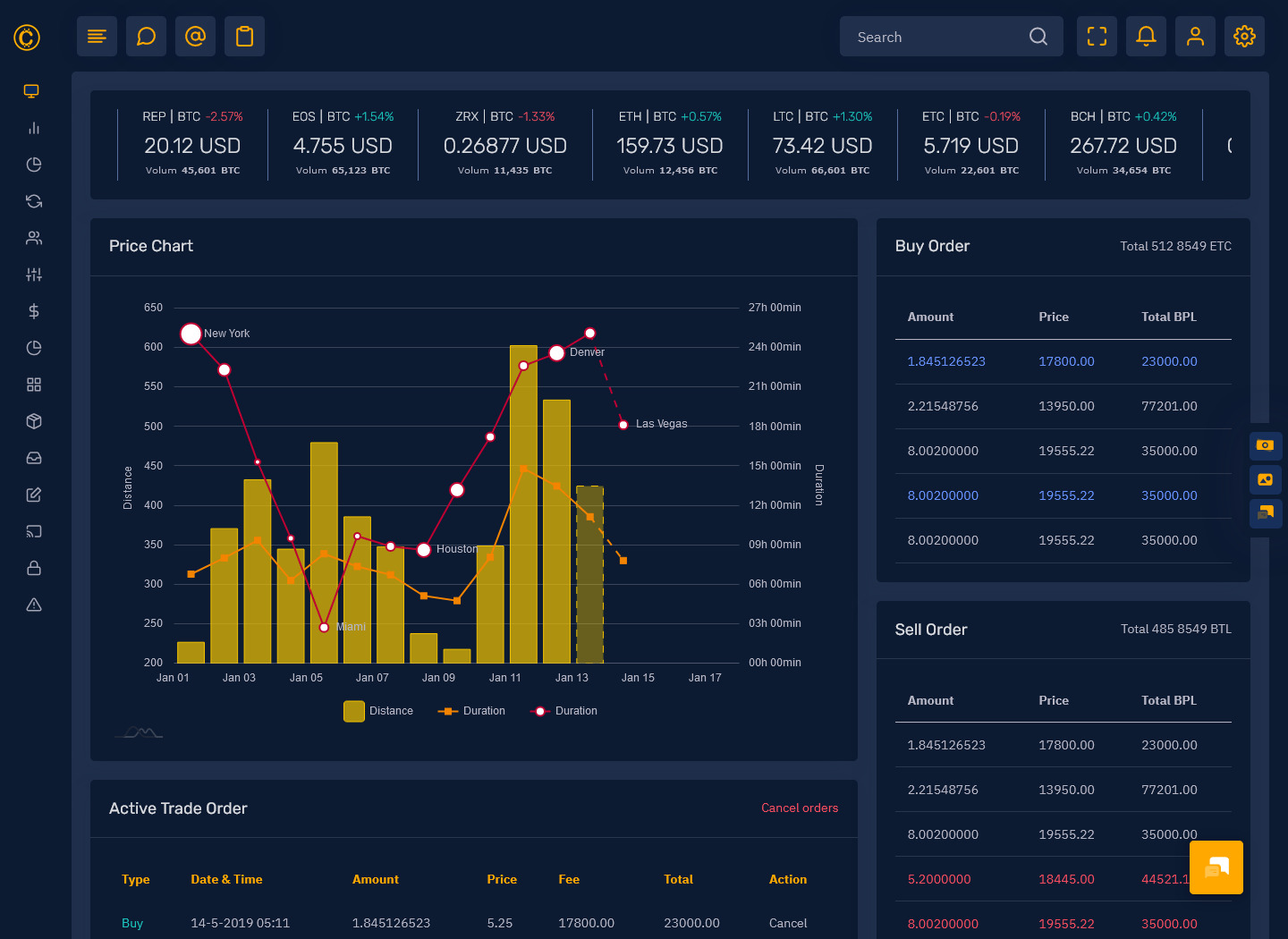 Crypto Horizontal Admin Light Dashboard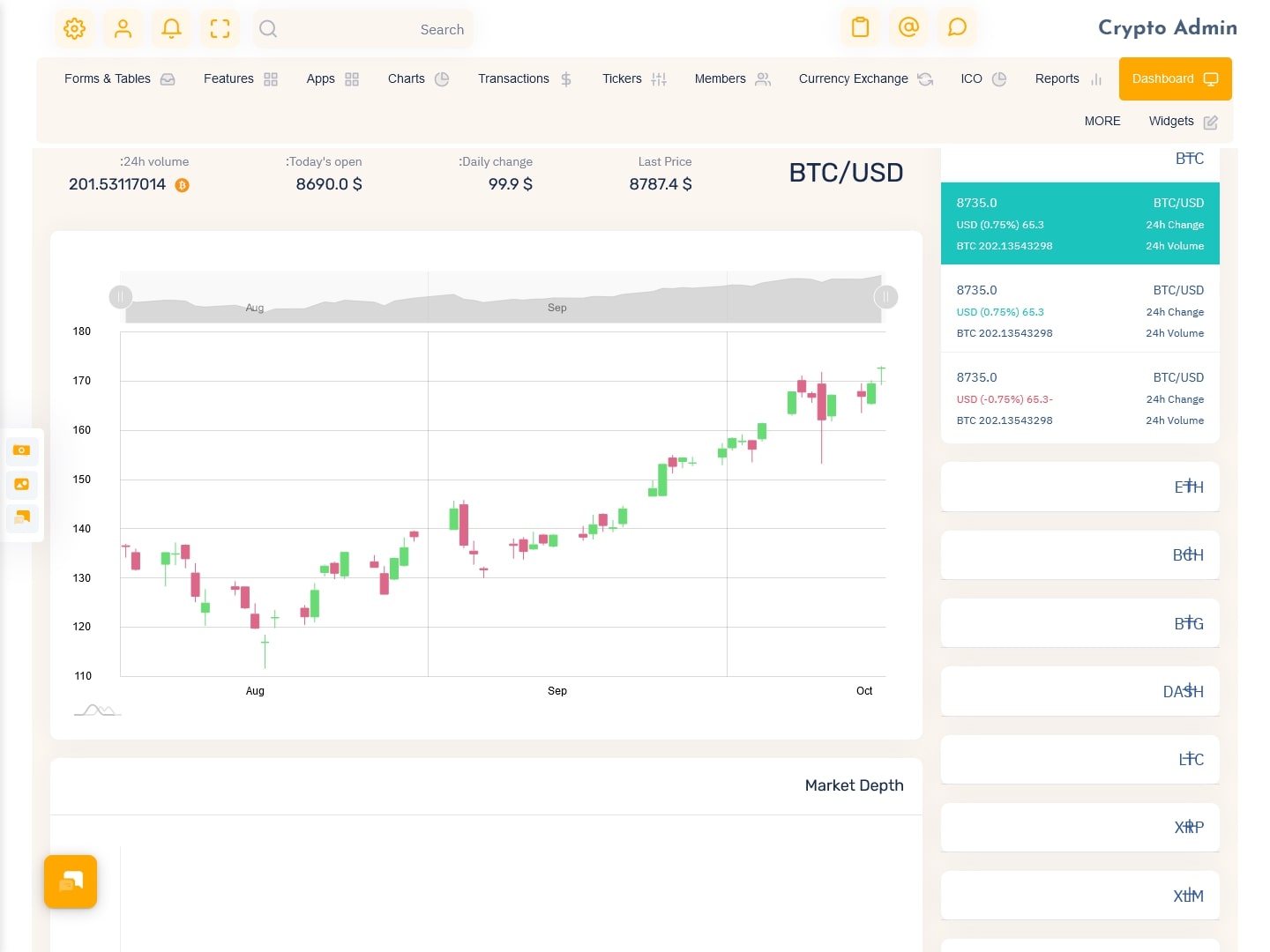 Crypto Semi Dark Admin Dashboard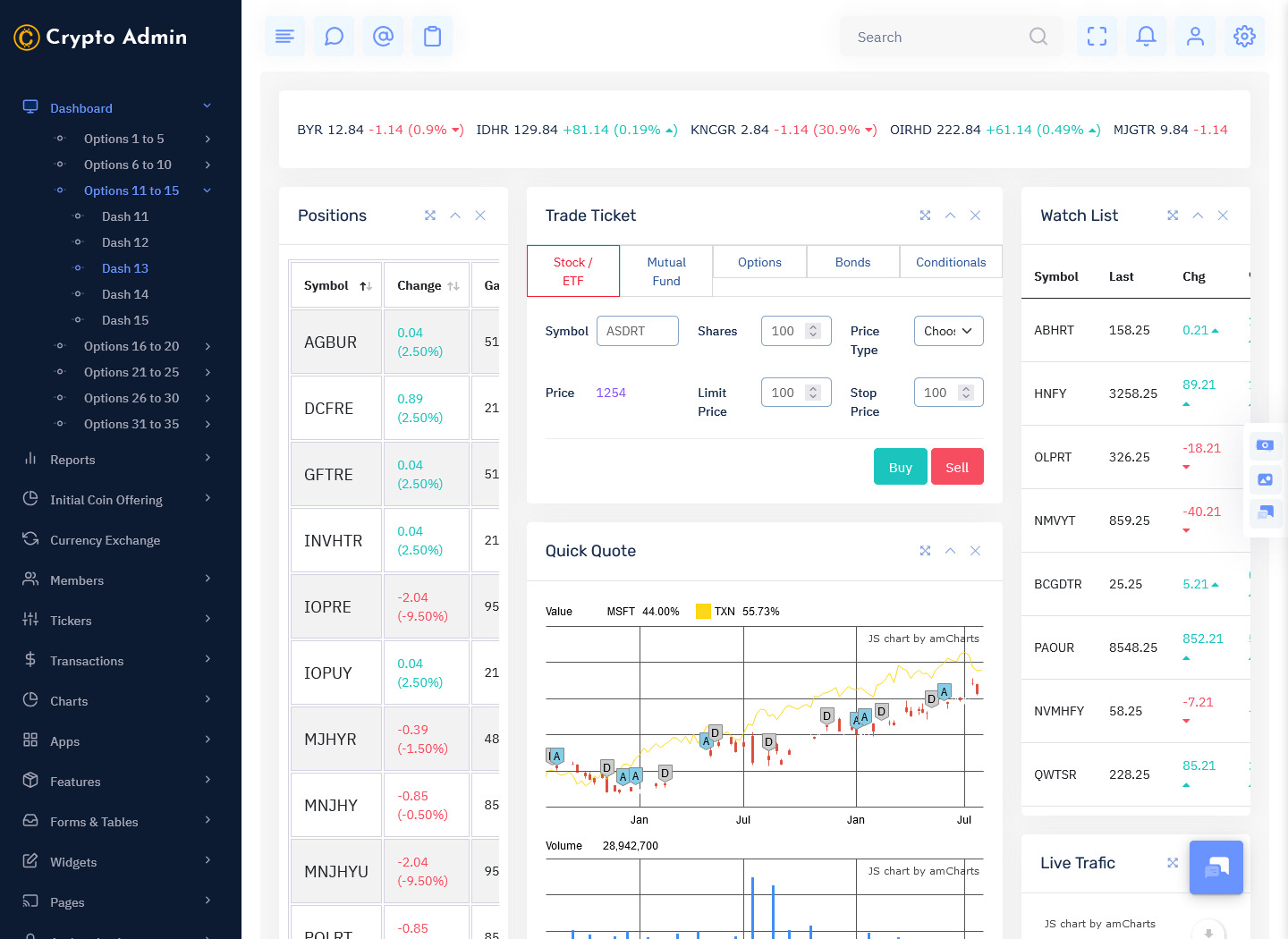 To identify risk exposure
Any project-based company is exposed to hazards to a certain extent. As a result, you must do a risk analysis early in the planning process. By doing this, you might find extra work that has to be handled and minimized as well as potential dangers. It's important to note that hazards do not just manifest themselves at the project's beginning. On the contrary, with continued study, more may appear.
Using a cryptocurrency portfolio Crypto Admin Dashboard, you may quickly identify your risk exposure. It gathers information from all of your cryptocurrency portfolios, which include projects, initiatives, and procedures, to provide a complete picture of the risks encountered. As the project moves forward, using Smartsheet dashboard automation may significantly aid in exposing continuing risk.
Individual cryptocurrency Portfolio Management Dashboard  that are well-aligned have a better probability of succeeding than those that work independently without a shared objective. You will have a scenario where projects or initiatives execute multiple duties when everything is disorganized. As a result, you waste a lot of time and money.
The use of cryptocurrency portfolio WebApp Template makes it easier to match efforts with overarching corporate objectives. Utilizing clever Smartsheet dashboard techniques will help you advance your compliance efforts.
Final words
Now you know how a cryptocurrency Portfolio Management Dashboard can benefit you. If you are looking forward to getting the most out of your cryptocurrency dashboard, make sure that you use the right Bitcoin Ethereum Admin Templates theme and go ahead.