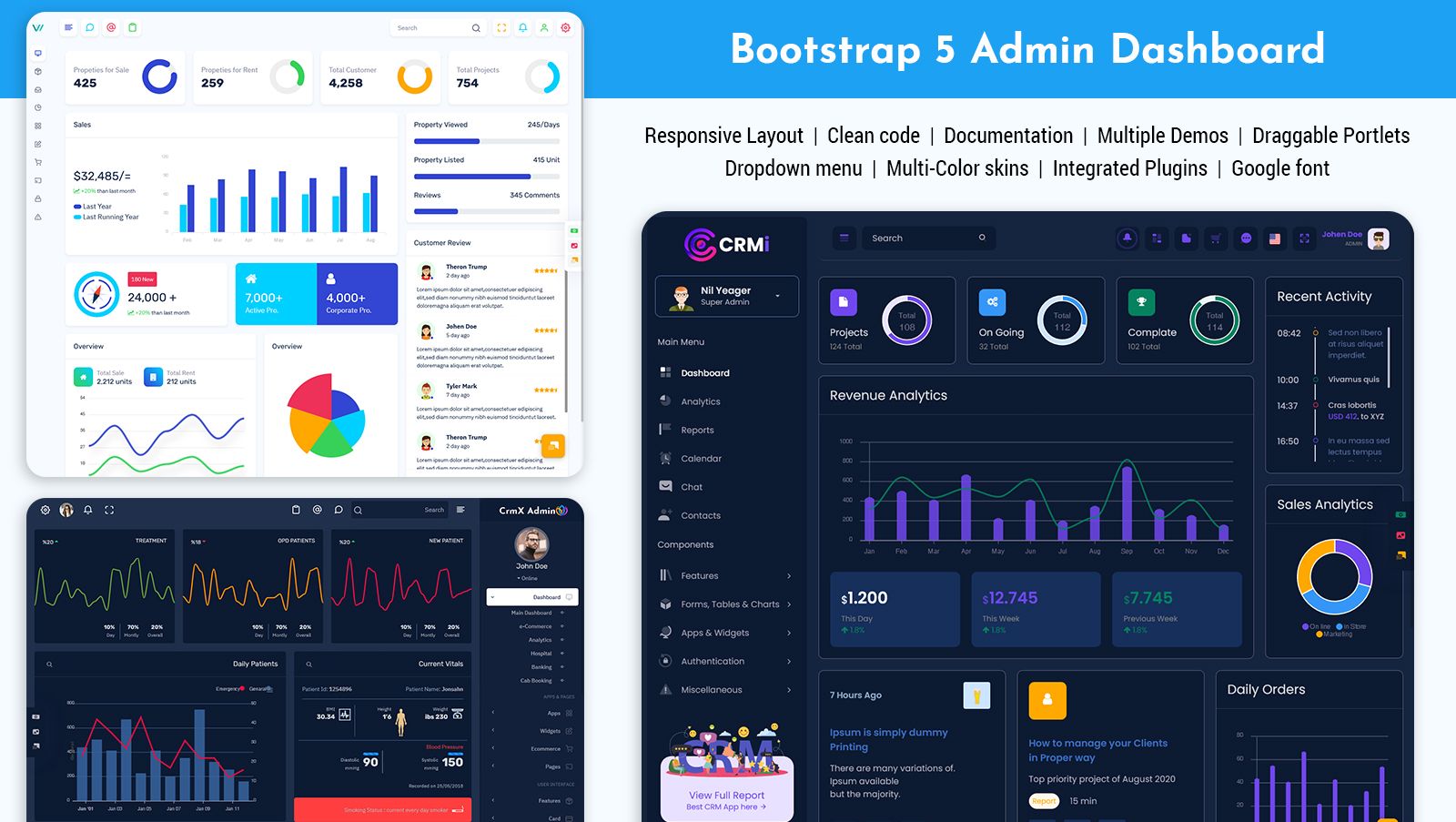 Different types of Bootstrap 5 Admin Dashboard and their uses
Reading Time:
3
minutes
A good dashboard is a tool for swiftly communicating information to a user. Data is everything in the world, and there's a lot of it. A dashboard helps consumers make sense of the data by organizing it. Along with the help of Twitter bootstrap, now you are capable of creating admin dashboards in the easy way. All you have to do is to go through the best Bootstrap admin templates and pick the most appropriate template. However, it is still important for you to have a good background understanding about them. This understanding will assist you to locate the most perfect Bootstrap 5 Admin Dashboard at the end of the day.
Who will make use of the dashboard?
Your audience is one of the most important factors to consider while building your dashboard. Who will make use of the dashboard? What is the demographic of your target market? This data can help you fine-tune your dashboard so that it's just right for your target audience. It's also beneficial to consider how your target audience could utilize your dashboard. What kind of devices will they use to access the dashboard? Will they rely on it for extended periods of time, or will they want rapid information on the go? This type of data is quite useful when constructing a dashboard.
You should also be mindful about the use. In case if you are developing a crypto website, you should be using a Crypto Admin Templates Dashboard. The Bitcoin dashboard template will help you to refrain from unwanted customizations. Make sure that you pick the most appropriate Cryptocurrency Dashboard Template as well.
What's the use of having a dashboard?
The first step in creating a dashboard is determining what it will be used for. What do you hope to accomplish with your dashboard? Who will make use of it? Perhaps you'll require a sales dashboard to track sales on a weekly basis. Alternatively, you may want website traffic monitoring or a dashboard to ensure that a specific problem or trend is detected. Knowing these data can aid you in creating a dashboard that is more useful to your target audience. Dashboards are divided into several categories.
Different individuals use dashboards for various purposes. You'd be better off building individual dashboards for each of them because their demands are so different. Someone who need a sales dashboard will not require the same data as an HR manager. Keep things simple for this one reason. Separate the data shown by several dashboards into distinct tabs or pages.
In order to create the ideal dashboard, you must first choose the correct type of dashboard. The following are some examples of dashboards and their uses.
Dashboards for strategic planning
These dashboards are used to keep track of long-term strategies. A strategic dashboard should enable users to examine and benchmark a wide range of essential data.
Dashboards for operations
This dashboard is a tool that allows users to monitor, measure, and manage activities over a shorter period of time.
Dashboards using data analytics
These dashboards provide a vast quantity of data from which analysts may derive insights to assist a company's executive level growth. This sort of dashboard is ideal for data analysts, SEO experts, and other professionals.
Dashboards for tactical operations
These are information-rich dashboards that may be utilized to develop growth strategies for a company.
Every dashboard you make should be tailored to a certain audience and their goals. These dashboards will be in charge of an organization's decision-making processes. Make sure you determine the most crucial details and leave out the ones that aren't. As a result, you'll be able to design a dashboard that boosts the user's productivity.
Include only the most crucial information in your dashboard
Every inch of your dashboard is important. The viewers would be confused if there is too much information on the screen. If you're having trouble fitting too much data into one dashboard, you might need more than one. Make sure the information on your dashboard is relevant to the dashboard's goal. The material must also be simple to comprehend. It is vital to select the appropriate forms of data visualization. In a subsequent part, we'll go over this in further detail.
If you are impressed by these reasons, you can go ahead and start using Bootstrap for your Bootstrap 5 Admin Dashboard designing related work.