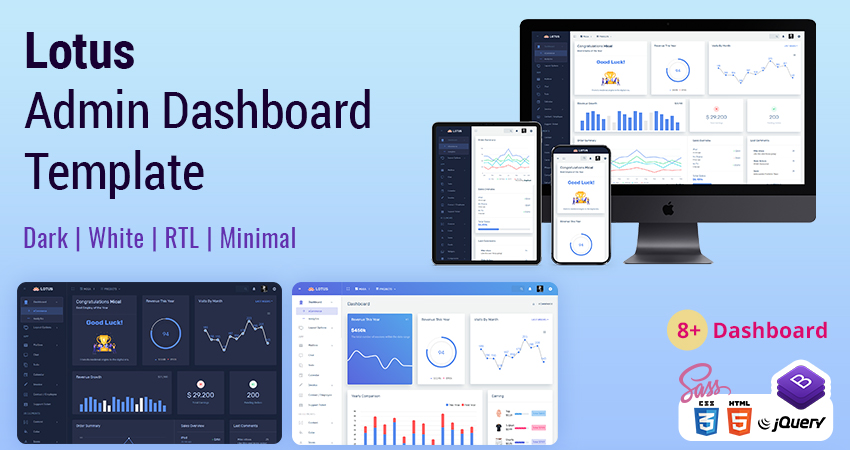 Responsive Bootstrap 4 Admin and Admin Panel – Lotus with Admin Dashboard UI Kit
Reading Time:
2
minutes
Lotus Admin Dashboard Template a clean way to use the design for your dashboard projects. This can be used for admin dashboard Applications for your online applications.
It is a unique dashboard with features visits, monthly revenue, and performance tracking. We have developed this admin template by unique and minimal look of the CRM's software. Bootstrap 4 latest with SASS.
Lotus Bootstrap Admin Template – Responsive Bootstrap 4 Admin Template Dashboard Web Application. The Admin HTML template can be used for online applications and softwares. Clean, Modern, New, Creative look for your application. This comes with SasS. Notification and Sales Volume are creative new features.
You can track and analyze your job statistics from our HTML template plugins and widgets. Modern looking HTML Template on Bootstrap 4 latest platform.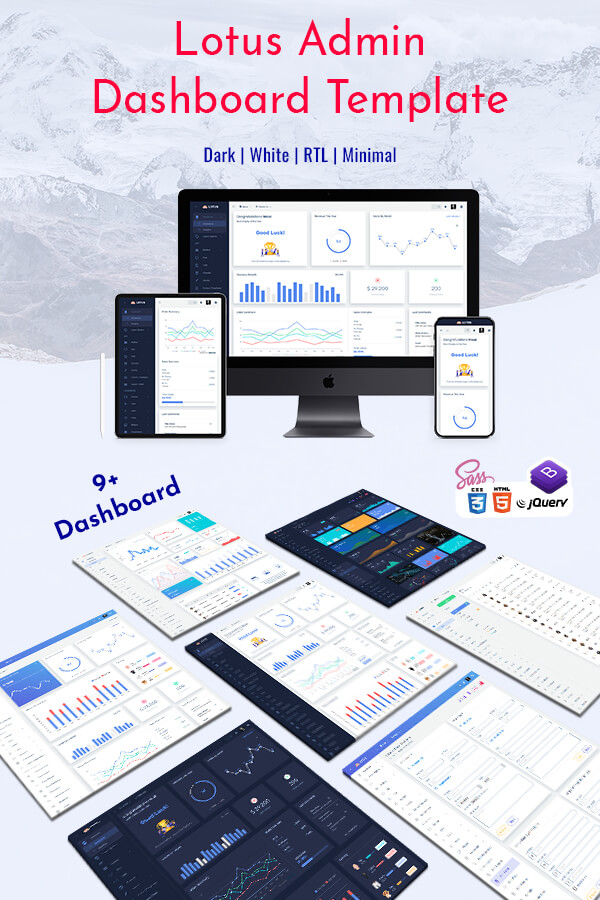 Why you should choose our Lotus
Bootstrap 4 Admin Templates

?

Our Admin Templates comes with many benefits and advantages that are provided below:
Comes with 8 Dashboard variations
Lotus Responsive Admin Dashboard Template comes in 4 elegant versions. They are Classic, dark minimal and Semidark. And it includes total 8 dashboard variations. You can check out the demo for more information.
Increases Speed & efficiency
When you work with our Lotus Admin Panel the task of creating, redesigning, or redeveloping a website becomes simple and easy. Because you only have to modify the already pre-defined code, which will increase your efficiency and speed by completing the task in lesser time.
Less Coding Knowledge required
If you are a developer who has limited knowledge in coding languages like HTML, CSS, etc and you are just building your coding skills. Then our Admin Dashboard Template would be a perfect choice as they eliminate the tough coding part and makes the work of website construction and maintenance easy. So even if you have less experience with coding you can go with our lotus admin template.
It is Flexible
Our Lotus Dashboard Admin Templates comes with a wide variety of pre-built customization options that can help you work according to your needs and requirements. Hence it is flexible and can fit all the business requirements. This will help you to grab a large number of opportunities.
Mobile-friendly and Responsive
Our lotus Premium Admin Panel is mobile-friendly and responsive due to which it looks equally good on all kinds of screens from small viewports of smartphones to high-resolution screens of desktops. Also, a mobile-friendly template becomes very important and helpful when you need to make urgent modification and your laptop or PC is not available with you.