Important Features of Ecommerce Admin Panel About Which You Should Know
Reading Time:
3
minutes
The Admin Panel is the backend of your website that enables you to add, delete, update, edit, or modify your website whenever needed. It is an essential requirement for web applications like eCommerce sites or CMS. When it comes to a website, there are various eCommerce admin panels or Admin Templates such as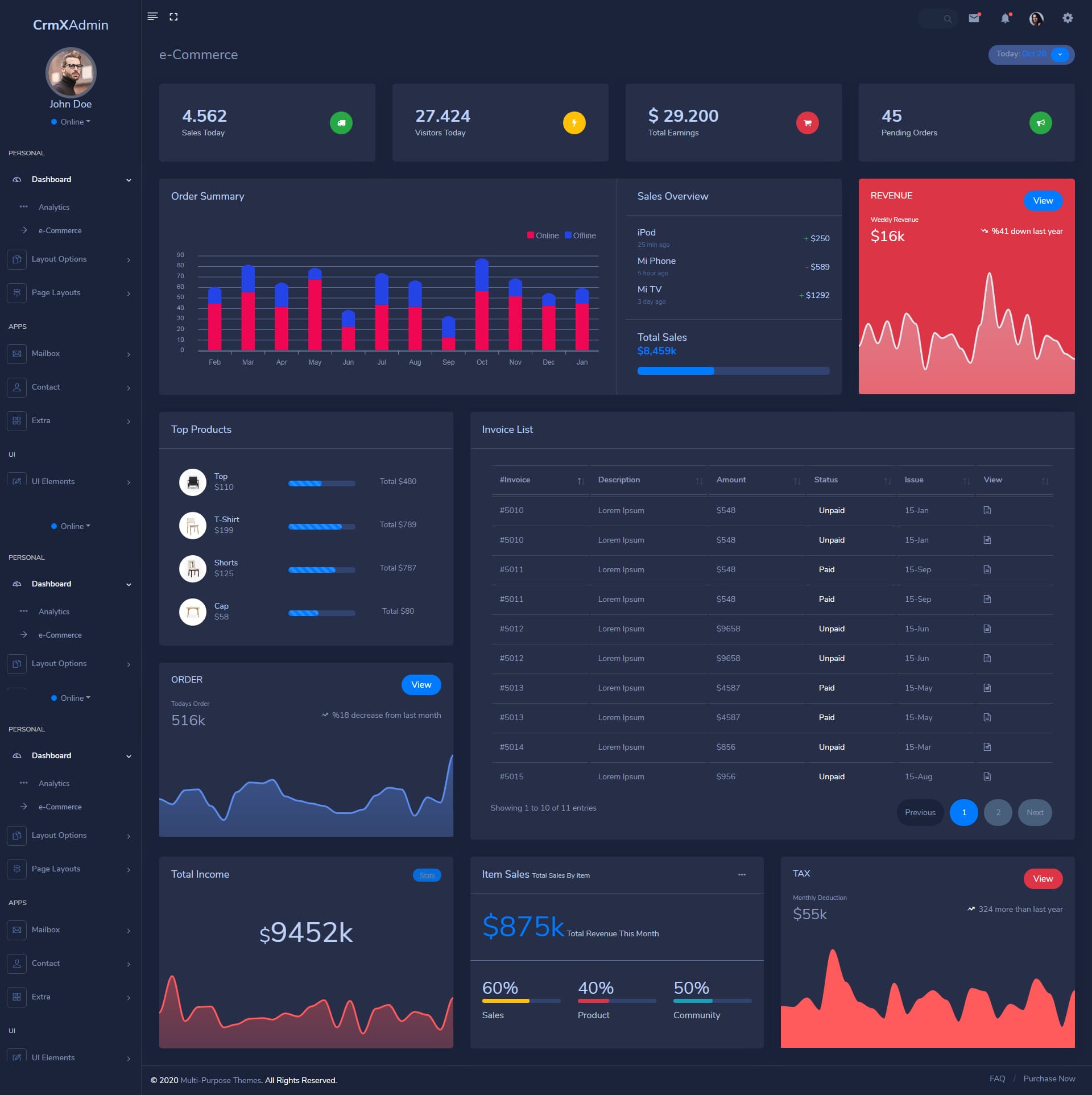 Let's look at other features of an eCommerce Admin Panel
Manages Orders :
The Admin Panel not only helps you to manage and track all your orders but also check multiple products at once.
The order summary can help you with the insight of orders placed by your customers like :
Summary of the products ordered by your customer.

Customer details such as their names, shipping address, contact number, and email id.

You can view Payment details with your preferred mode. You can also keep a track of received and pending payments.

Ecommerce Admin Panel helps you to directly create your draft orders.

Keep a track of abandoned orders.
Manages Products :
You can easily add unlimited products just by entering Product titles, details, images, shipping information, etc.

You can keep a track of single as well as multiple product inventories at one time and help your customers book those products which are ready for shipment.

Ecommerce Admin Dashboard helps in grouping your products to a specific category or brand.
Manages Customers Relationship:
Admin panel has a built-in Customer Relationship Management (CRM) which helps your customers to login, edit their address and view their order history.
Good Analytics :
Ecommerce Bootstrap Admin Dashboard has built-in analytics which helps you to keep track of your store's online presence from time to time.
Marketing Strategy :
Ecommerce Admin Panel helps you to create ads for
Google Smart Shopping

Facebook Marketing

Offering Discount Codes
To sum it up, Admin Panel has a set of predefined features and functionalities which help you to make changes or modify your website easily whenever needed without any professional help.
MultiPurpose Admin Templates is our most advanced, best selling, and highest-rated Templates to date. Everything you would expect and more from one of the most popular Dashboard Admin Template related websites out there! www.multipurposethemes.com.
Features
UI Kit
Badges
Buttons
Floating Action Buttons
Carousel
Modal
Dropdown
Dropdown menu
Sortable
Nav
Breadcrumbs
Pagination
Alert
Callout
Tooltip
Accordion
Tab
Process
Progress bar
Spinner
Timeline
Timeline activity
User Cards
Sweet Alert
Notification
Advanced Medias
Badges
Dropdown grid
Dropdown menu
Dropdown
Border
Color
Draggable Portlet
Bootstrap Switch
Date Paginator
Horizontal Timeline
Nestable
Ribbons
Chart
ChartJS
Morris
Sparkline
Flot
Inline charts
jQuery Knob
Widgets
Statistic
Chat Box
Social
Weather
Blog
Chart widgets
List widgets
Social widgets
Pricing tables
Coming soon
Live Chat
Calendar
Mailbox
Taskboard
Form
Default inputs
Material inputs
success inputs
warning inputs
error inputs
Combine inputs
Custom checkboxes
Custom radios
Password strength
Form layouts
Color picker
Date time selector
Select picker
Upload buttons
Form Validation
Form Wizard
Code Editor
Markdown
Xeditable Editor
Formatter
Pre-made Forms
Extra pages
Support Ticket
Invoice
Profile
Login
Register
Lockscreen
404 Error
500 Error
Blank Page
Pace Page
Recover password
Maintenance
Student Dashboard & Online Education Dashboard
Student Dashboard
Membership
Courses List
Courses Categories
Courses Details
Blogs (4 Style Blog Pages)
Blog Detail (8 Style Details pages)
Widgets (50+ widgets)
Typography
About
Invoice
FAQs
Testimonial (4 Style)
Staff
Contact
Register & login (2 Style)
Forgot Password
Lock Screen
Under Constructions
404
500
Shop Categories
Shop Cart
Shop Checkout
Shop Details
Shop Orders
Header (5 Style)
Footer (6 styles)
Search Bar (2 Style)
Megamenu
Sass base CSS
Language Dropdown
Currency Dropdown
Videos
Counter
University Slider
Vertical Slider