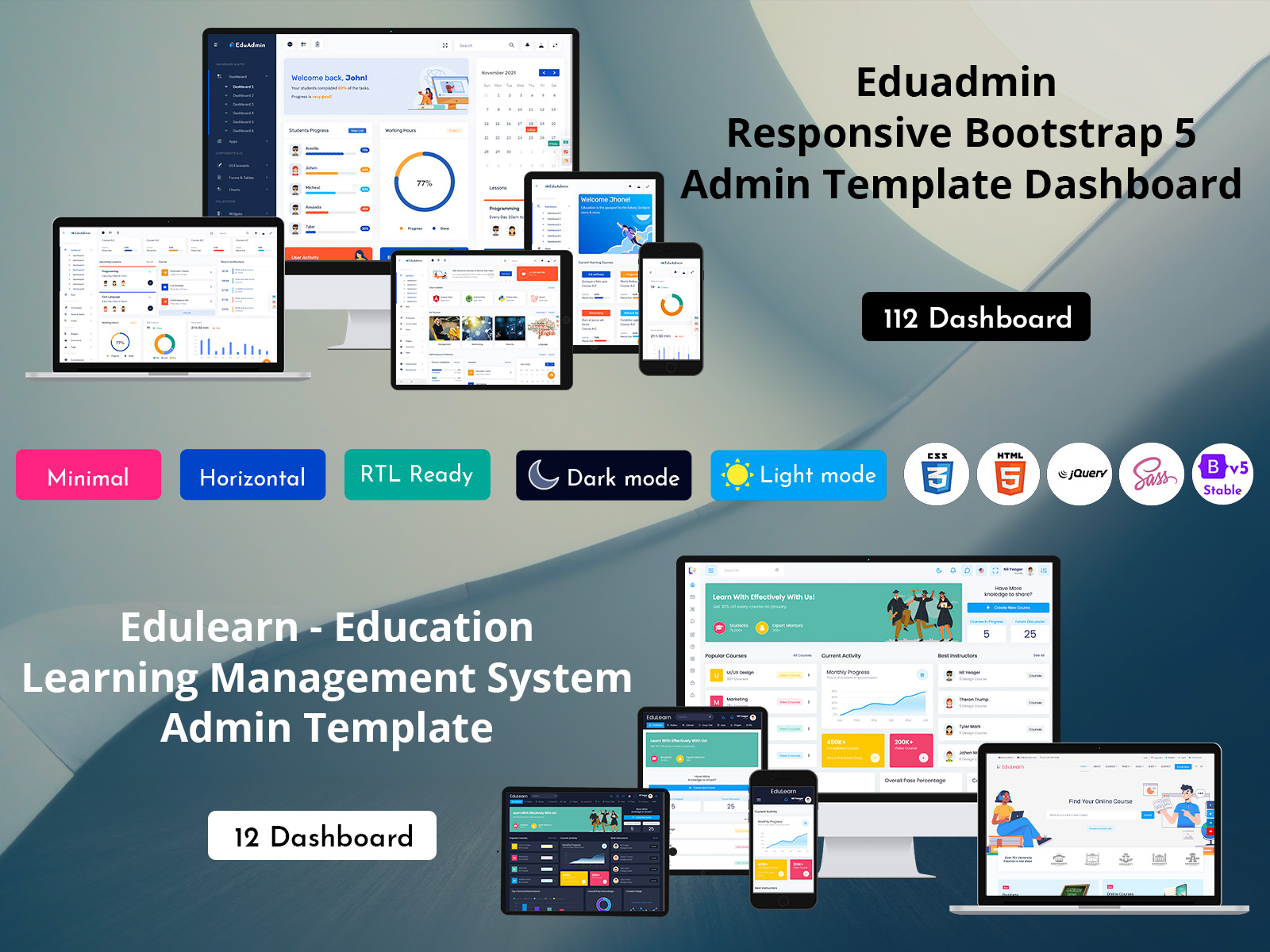 Building a perfect Online Education Courses HTML Templates LMS dashboard
Reading Time:
5
minutes
A modern LMS does much more than merely making information available and monitoring learners' progress. The learning materials are kept current with the demands of the students by modern LMSs. They do this via large, searchable content catalogues that make sure the student can get the needed knowledge promptly. Modern LMSs' Online Education Courses HTML Templates reporting features also ensure that there is space for customized reports that learners may use to direct their own education. This is where it is important to create a LMS Dashboard with the help of a LMS Education Bootstrap 5 Admin Dashboard Template.
LMS Dashboard Template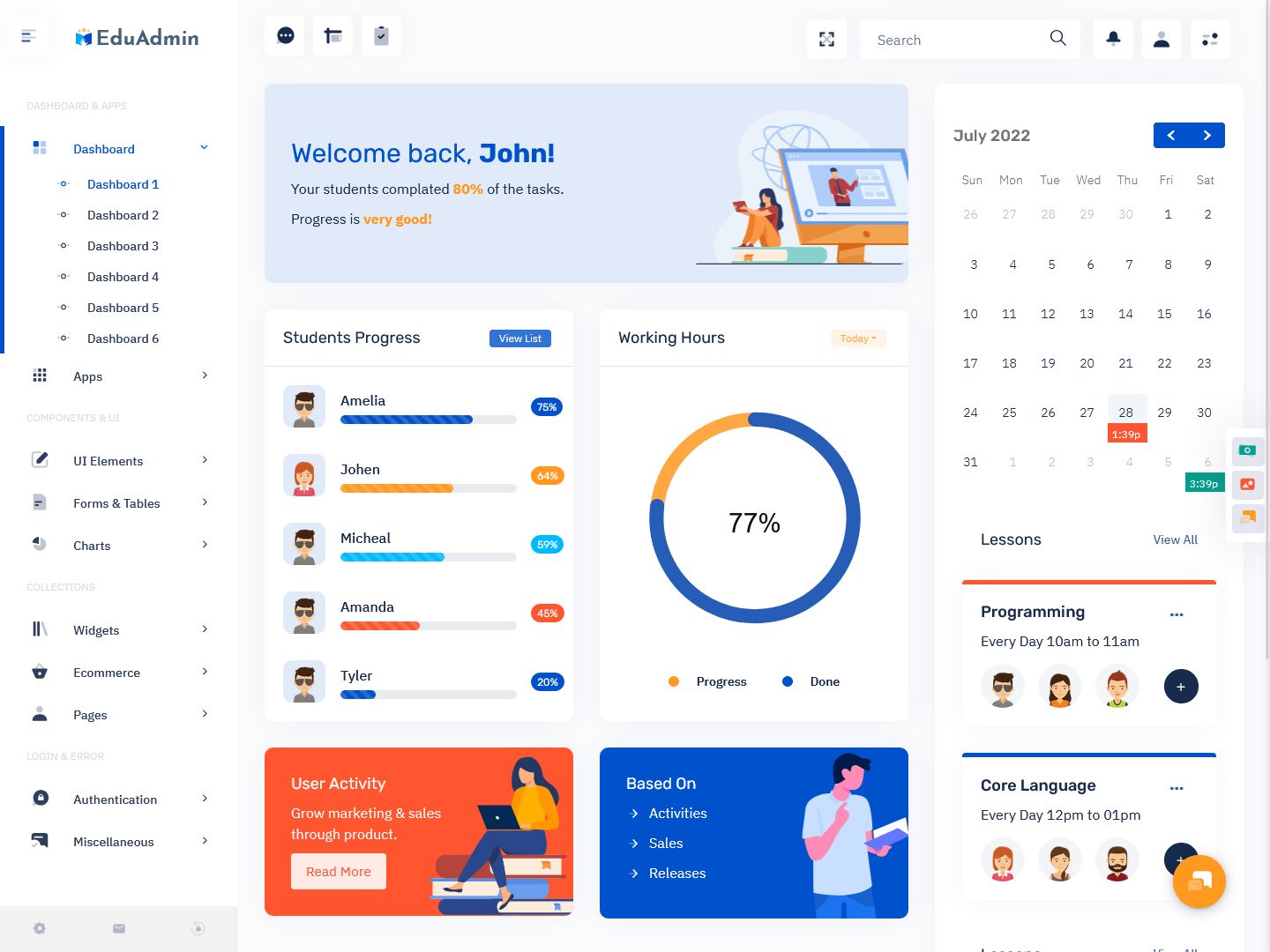 Dashboard Admin Template

Bootstrap Admin Dashboard

Admin Dashboard Template

Bootstrap Admin Template

Dashboard Admin Template

Bootstrap Admin Template

Admin Dashboard Template

Dark Admin Dashboard

Admin Dashboard Template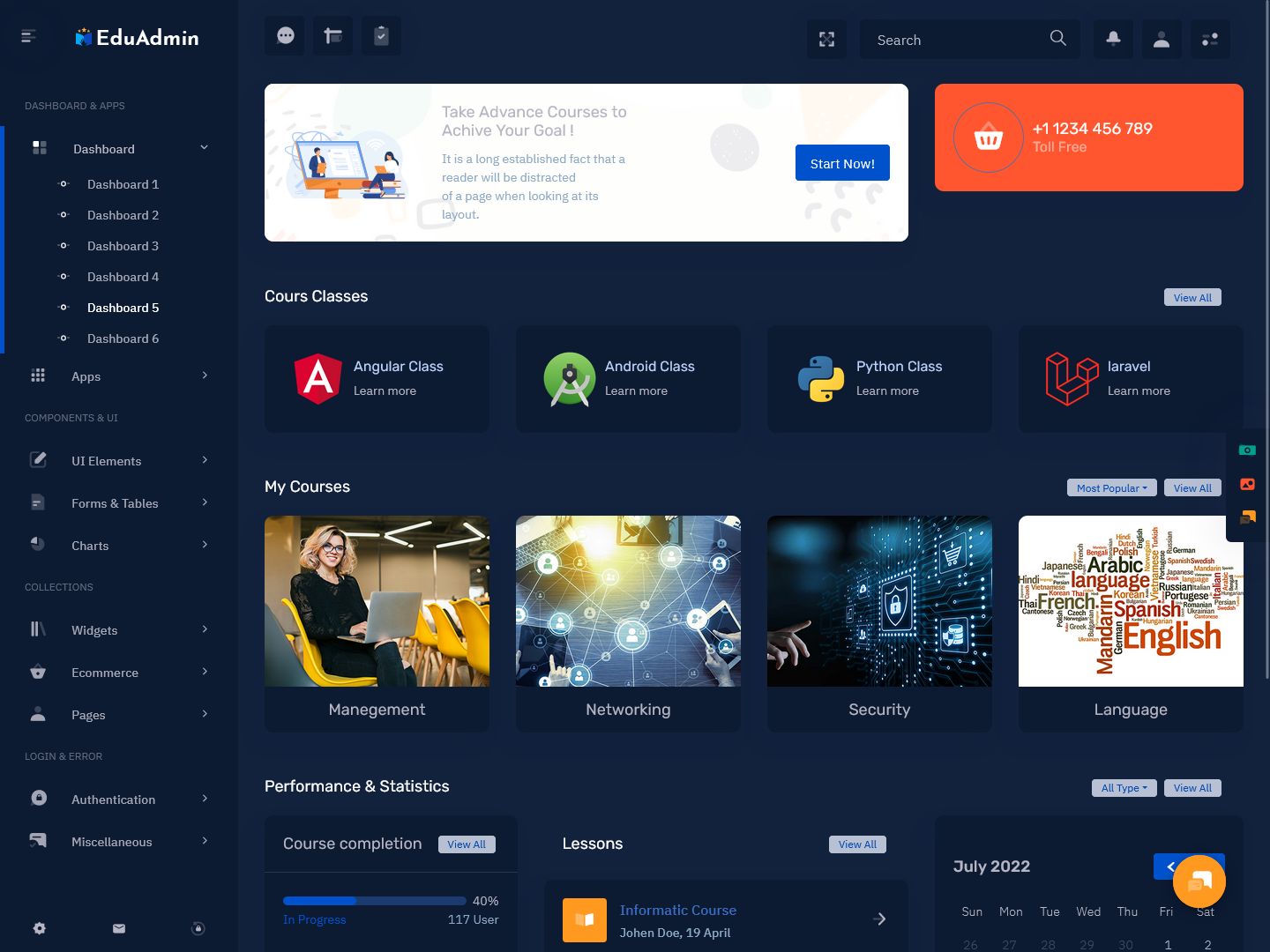 Semidark Sidebar Dashboard 

Mini Sidebar Admin Dashboard

Horizontal Admin Dashboard 

Bootstrap Admin Template

Edulearn Light Admin Dashboard 

Dark Admin Dashboard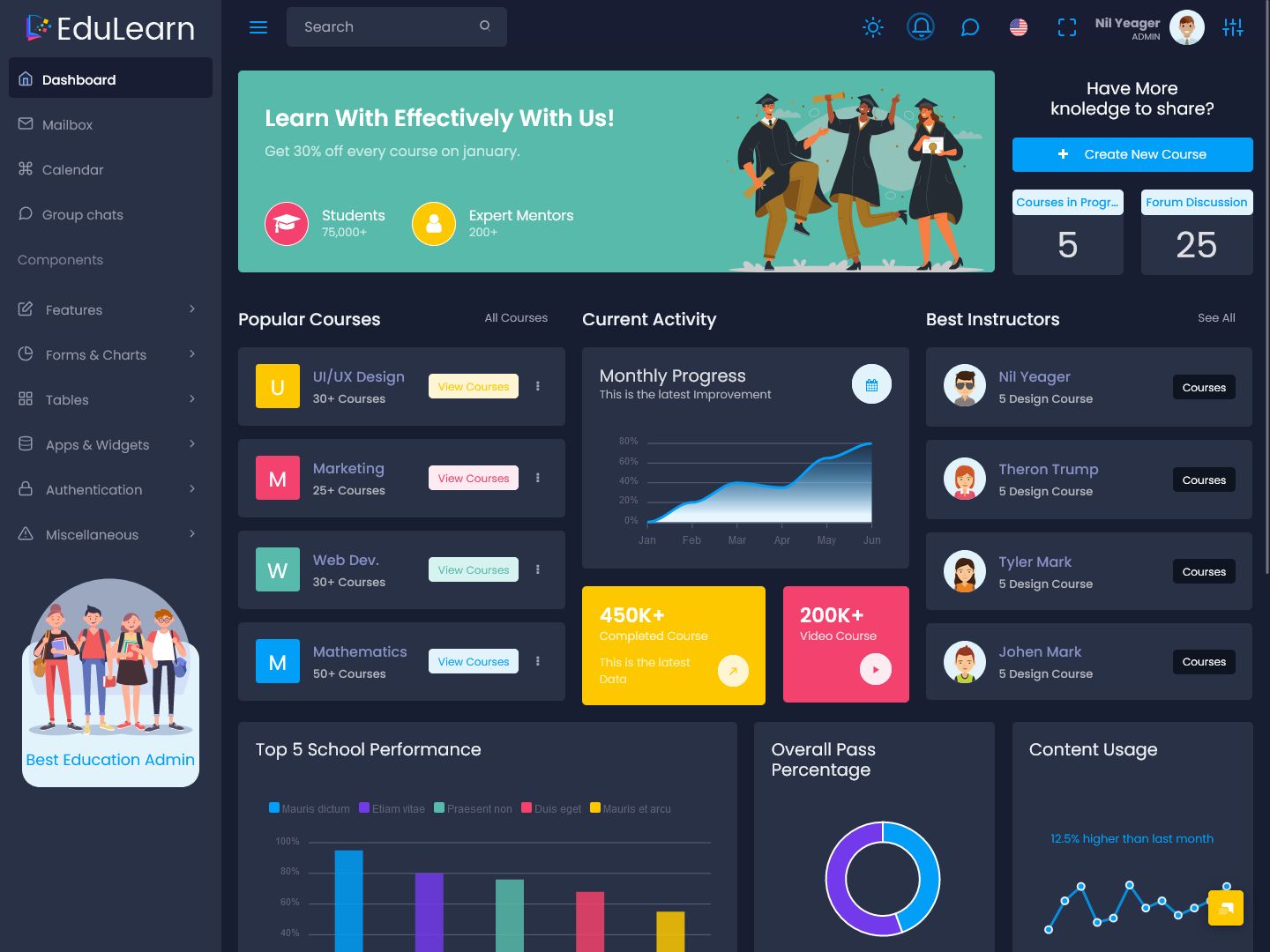 Light Miniside Bar Dashboard

Horizontal Admin Dashboard

Dark Horizontal Dashboard

Frontend HTML 

Courses List

Invoice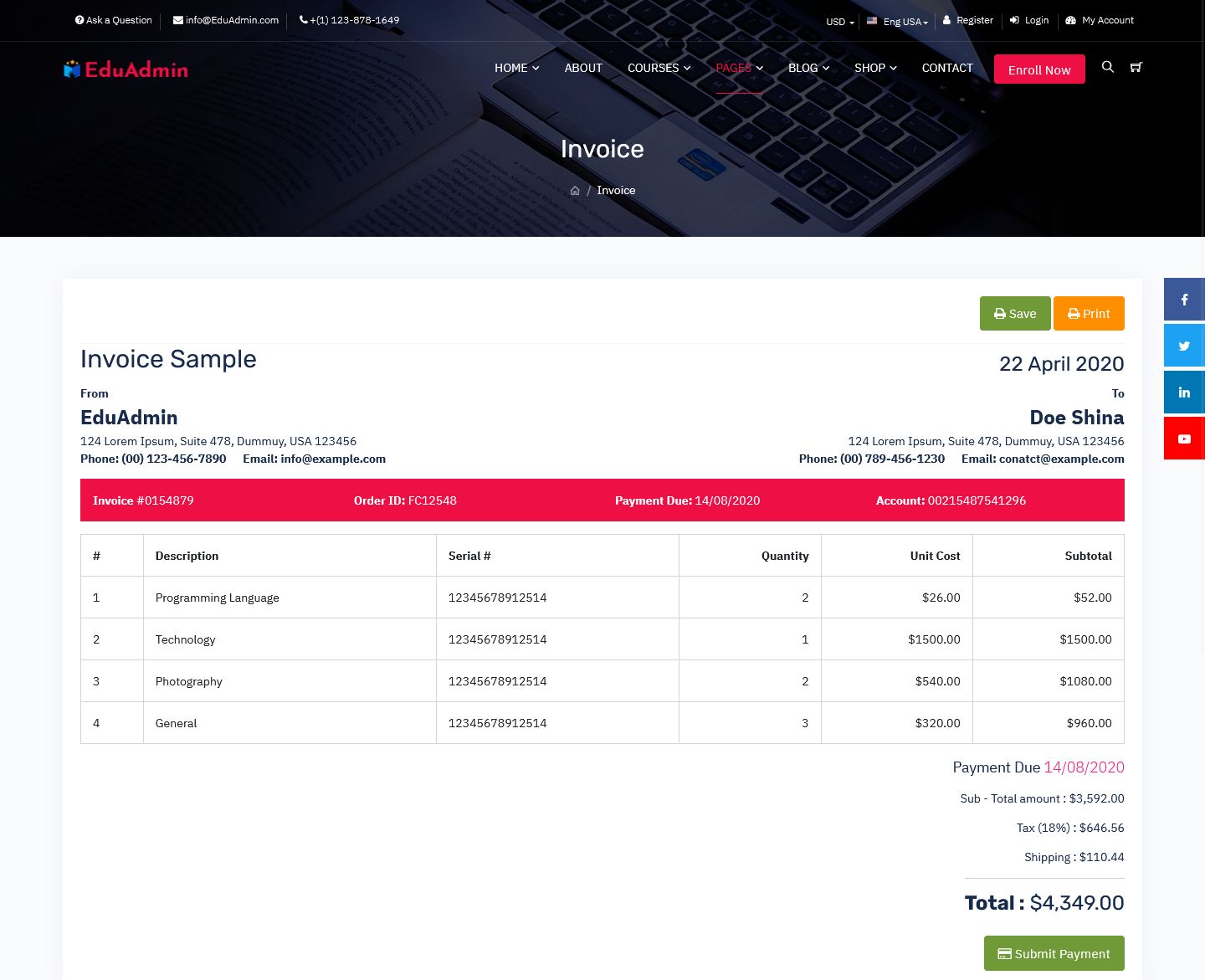 Learning management with the right software dashboard
Education Bootstrap 5 Admin Template are a modern feature seen in LMSs nowadays. They display the most crucial information on the LMS interface, ensuring that users are always informed of their progress. The student dashboard in a proper LMS includes the learner's progress through various courses, the cumulative progress relative to the complete learning curriculum, as well as a learning calendar for scheduling trainings according to individual schedules.
With the use of a good LMS Admin Dashboard Template, learners may monitor their progress and visually see the LMS's pertinent learning materials. They can better organize their studying time this manner, which will help them accomplish their learning goals more effectively. Dashboards aid managers and administrators by giving them another option to ensure that students are appropriately motivated to study. Overall, it assists enterprises in moving toward meeting business objectives for the LMS and obtaining a favorable ROI on the learning project.
How to develop a perfect online course dashboard
Pick metrics that are relevant to the student
The LMS collects a lot of data, but not all of it is pertinent to the learner. It is crucial to choose measures that really help learners and enhance their experiences. Insufficient data falls short of what learners want from a Education Dashboard. However, too much information must also be avoided since it adds pointless clutter. The selected metrics should also support the overall goal of the learning endeavor and be in line with the learning goals.
Current and accurate data
The information must be current in order for the learner to benefit from it. This is not a challenging task since the LMS generates the majority of the data that is presented on the Online Education Courses HTML Templates dashboard. Keep information channels open so that current and relevant information may be shown on the dashboard, even if part of it is connected to other systems within the enterprise, such as the HRMS.
Education Dashboards Responsive Bootstrap 5 Admin need to be aesthetically appealing to capture learners' attention. Use the appropriate colors, forms, lines, shading, and other visual enhancement techniques. Stay clear from offensive or silly images that detract from the educational experience. Additionally, refrain from using uncommon graphics since many students may not be able to comprehend them at all.
Easy accessibility and use
The learner Admin Dashboards should also be placed in a prominent location on the user interface, ideally the homepage, to provide learners a fast overview of their current location and preferred system paths. Although the student may not always spend significant time reviewing the metrics, a fast glance at future training events or fresh material on the system might help them choose their preferred learning route.
Education Bootstrap Admin Template Dashboards may be made interactive to ensure that students use it effectively. The possibility to customize the data shown to the learners according to their requirements may be provided using filters and other displays. Simple adjustments like customized skins and different color options can also make the dashboard more appealing to the learners and help eliminate any resistance that may arise due to the initiative's "newness" or the learners' perception of its value, if the option of customizing the data seems too much.
Final words
Now you know how important a LMS dashboard can be. While keeping this in mind, you can pick the best learning management admin template available out there and build the LMS dashboard. Make sure that you focus more on the tips shared above, so that you can end up with creating a perfect Online Education Courses HTML Templates dashboard that can cater to all your specific needs.