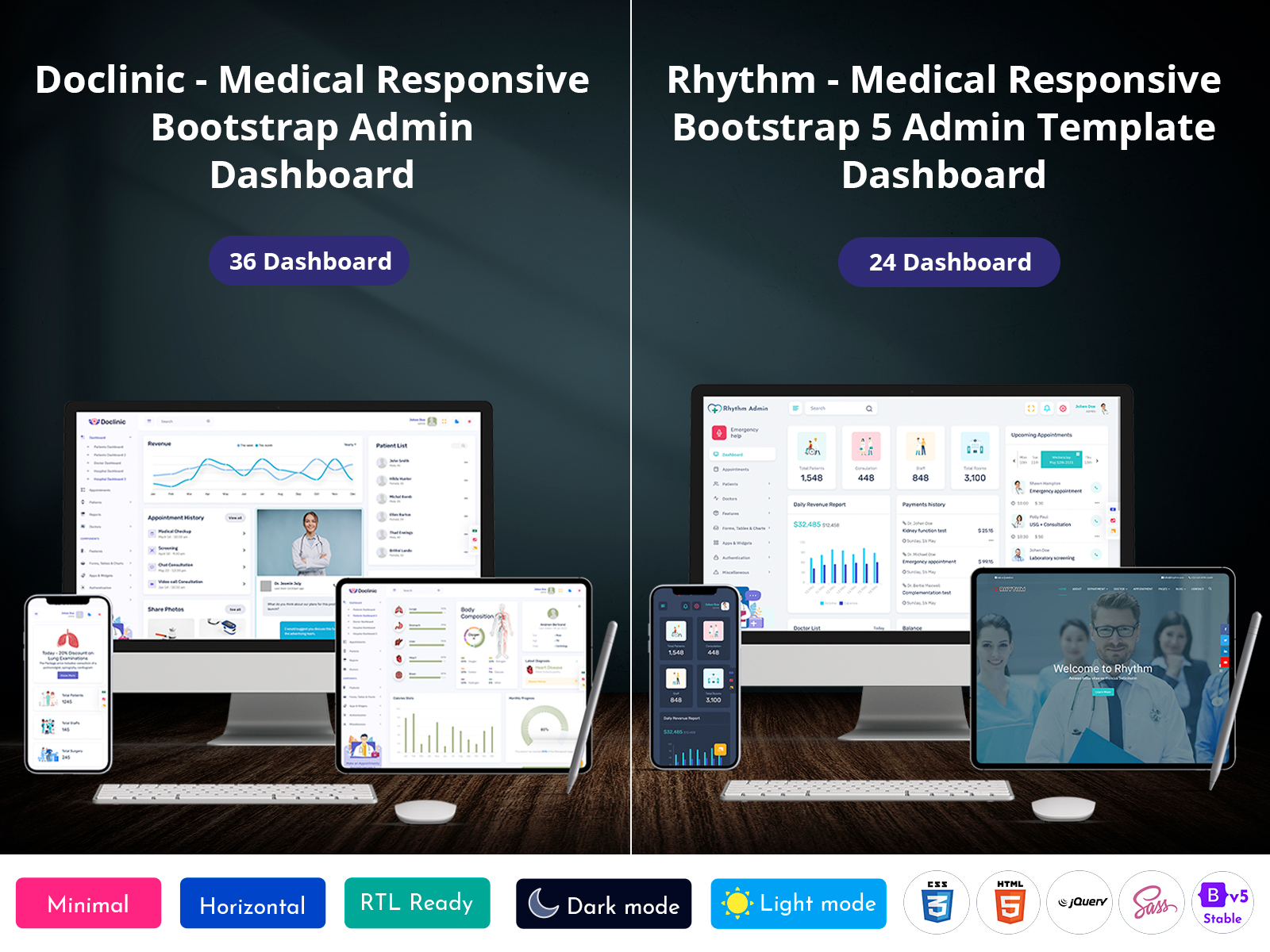 Understanding the importance of Healthcare Dashboard for hospitals
Reading Time:
5
minutes
When dealing with the massive quantity of data produced by the medical institutions, an interactive Healthcare Dashboard is a sophisticated tool for healthcare analytics and business intelligence that is quite helpful. Let's explore these systems' characteristics, advantages, and difficulties as well as the considerations you should make while designing one for your clinic. Before you get hold of a medical dashboard, you need to have a clear idea on the importance of a healthcare dashboard.
Medical Admin Dashboard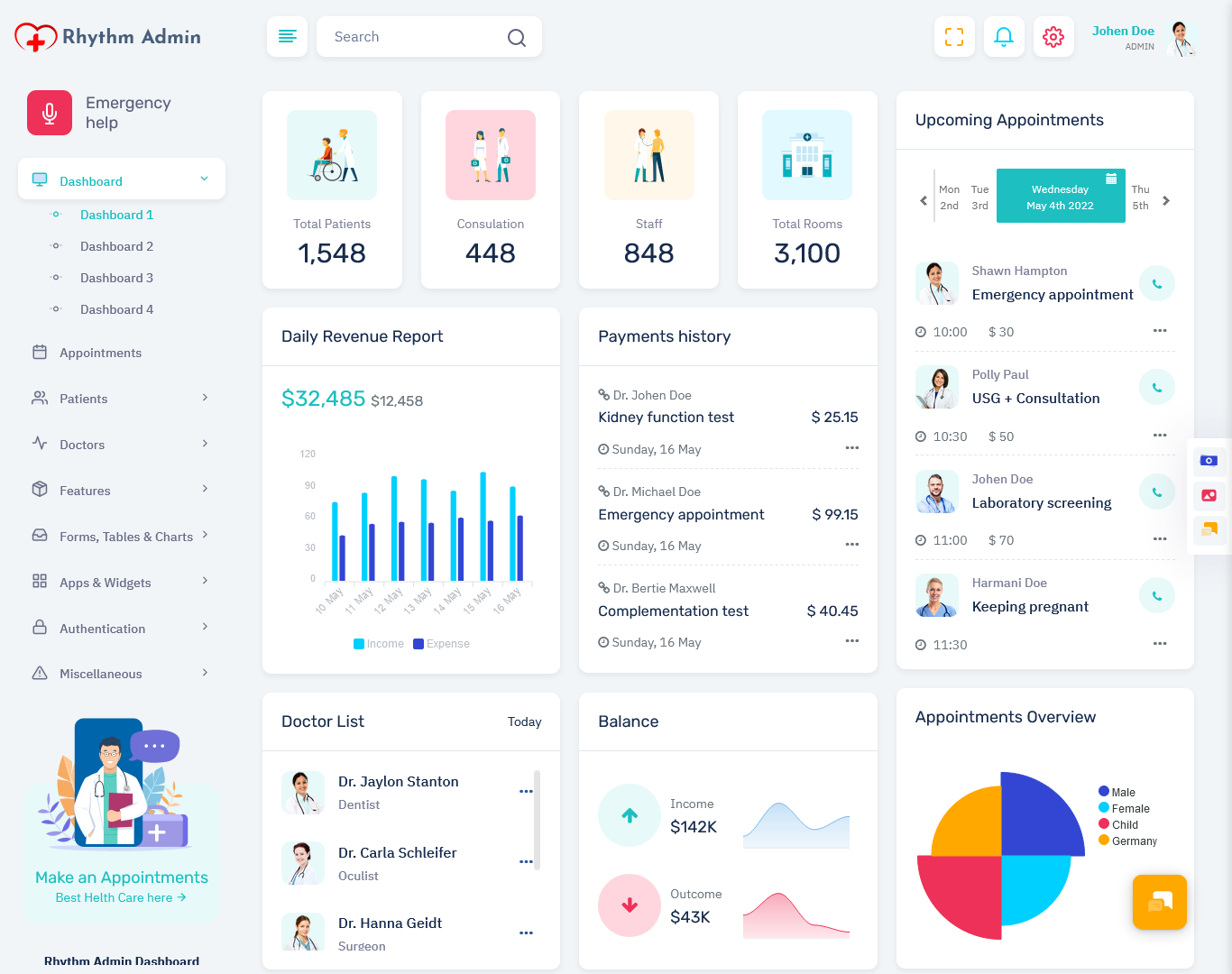 Medical Bootstrap Dashboard
Medical Dashboard
Responsive Admin Dashboard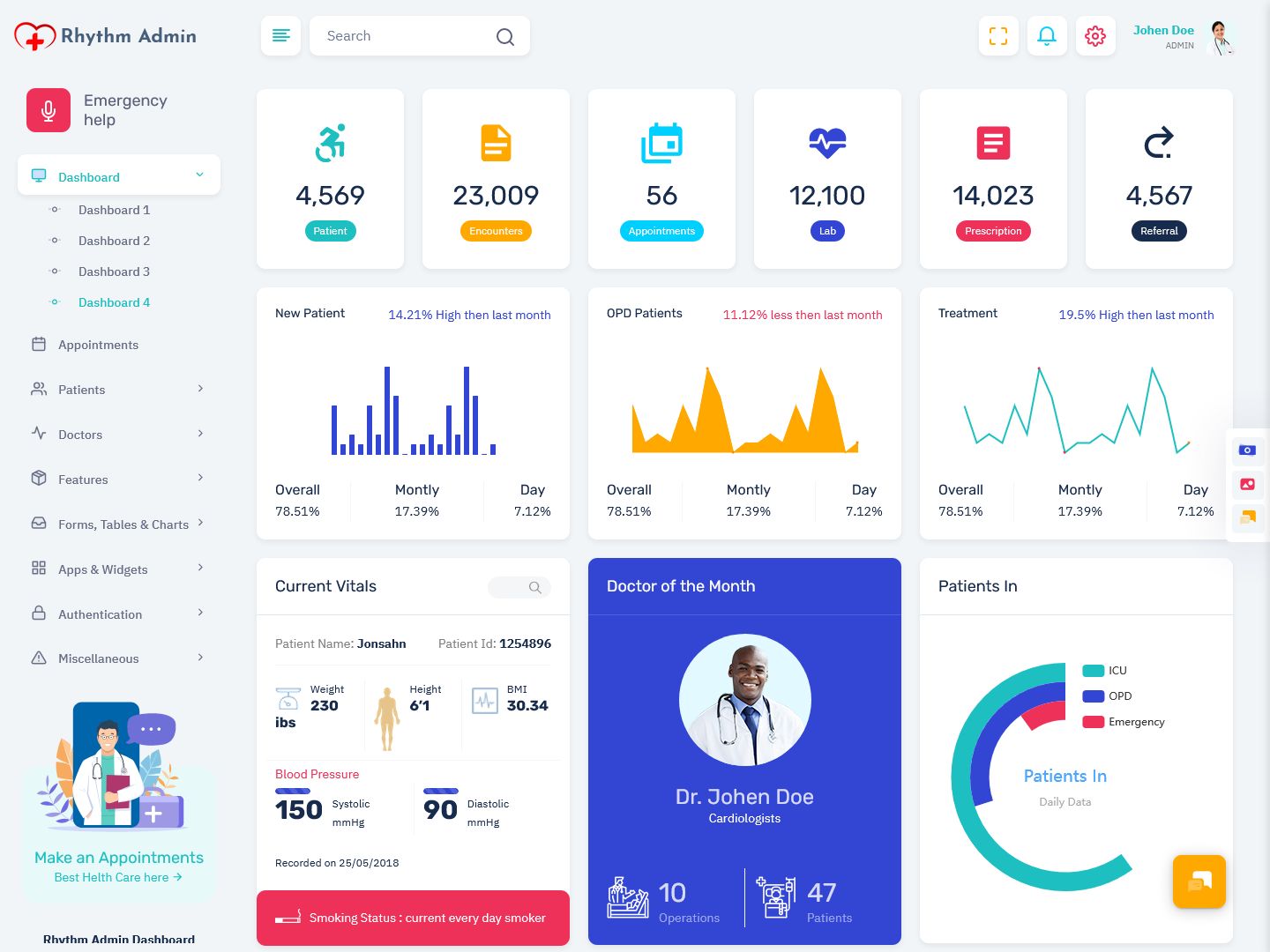 Medical Dashboard Template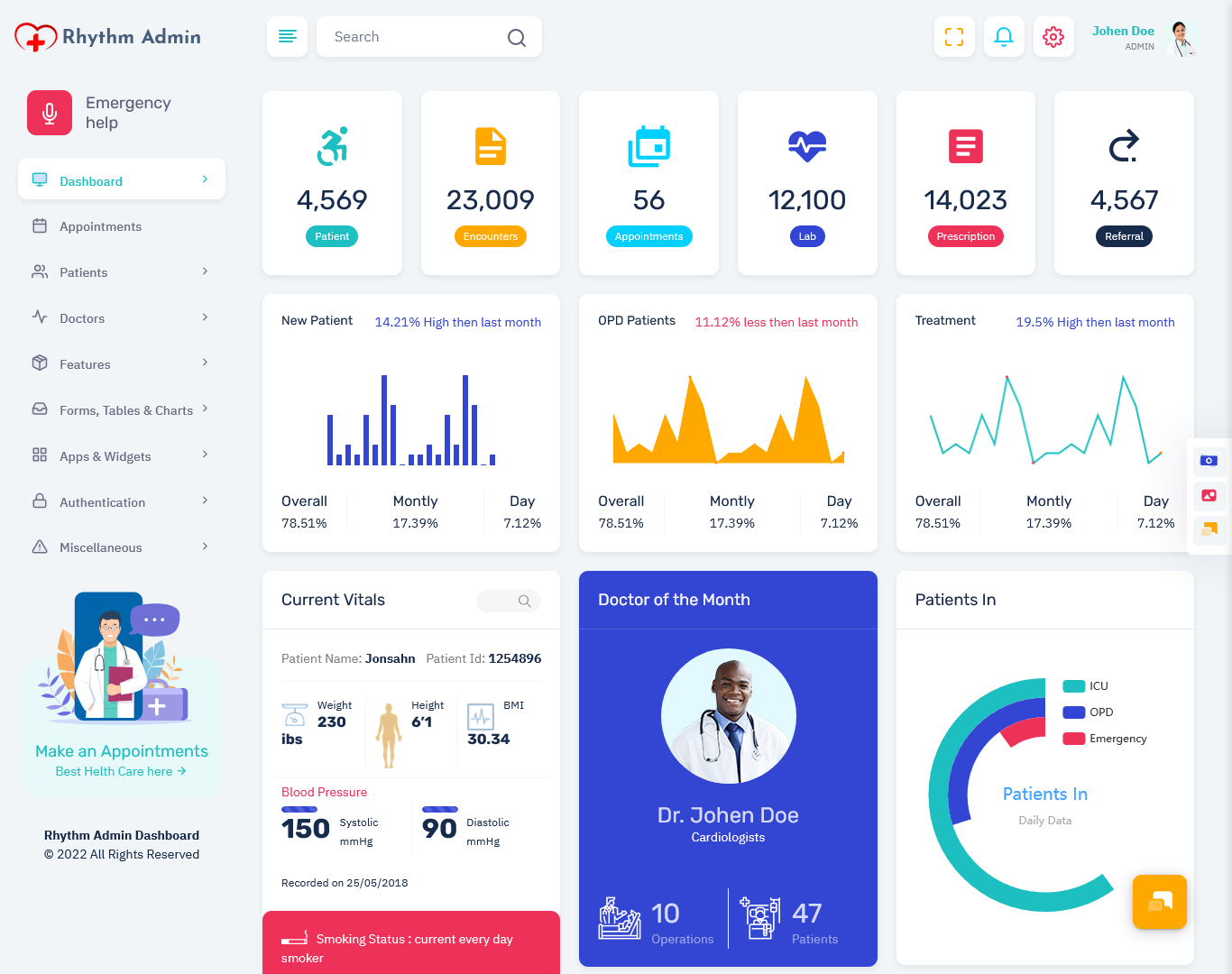 Patient Details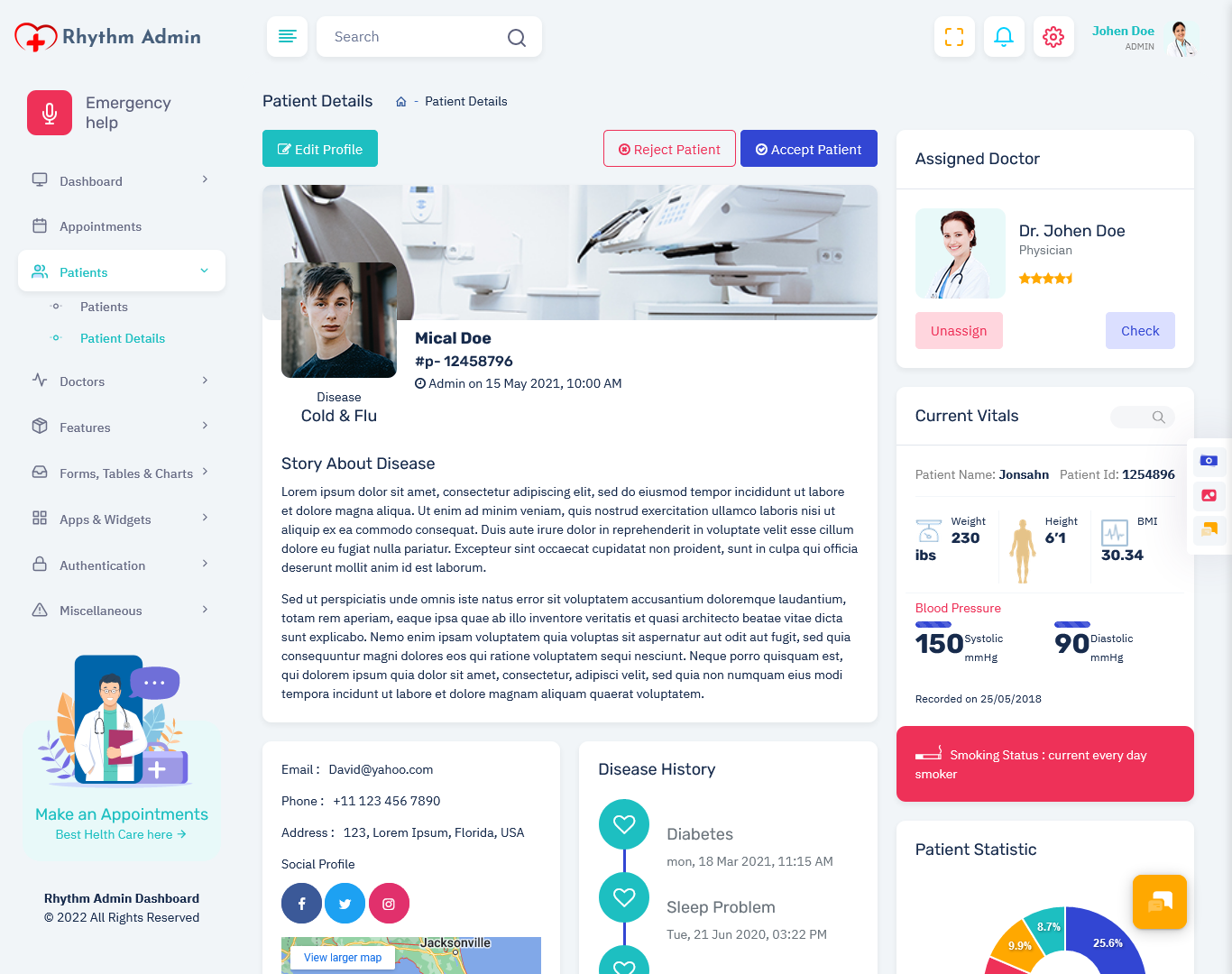 Doctor Details
  Dark Admin Dashboard Template

Dark Admin Dashboard 

Mini Sidebar Dashboard 

Dark Mini Sidebar Dashboard 

Doclinic Medical Dashboard

Medical Dashboard Template

Healthcare Dashboard Template

Dashboard Admin Template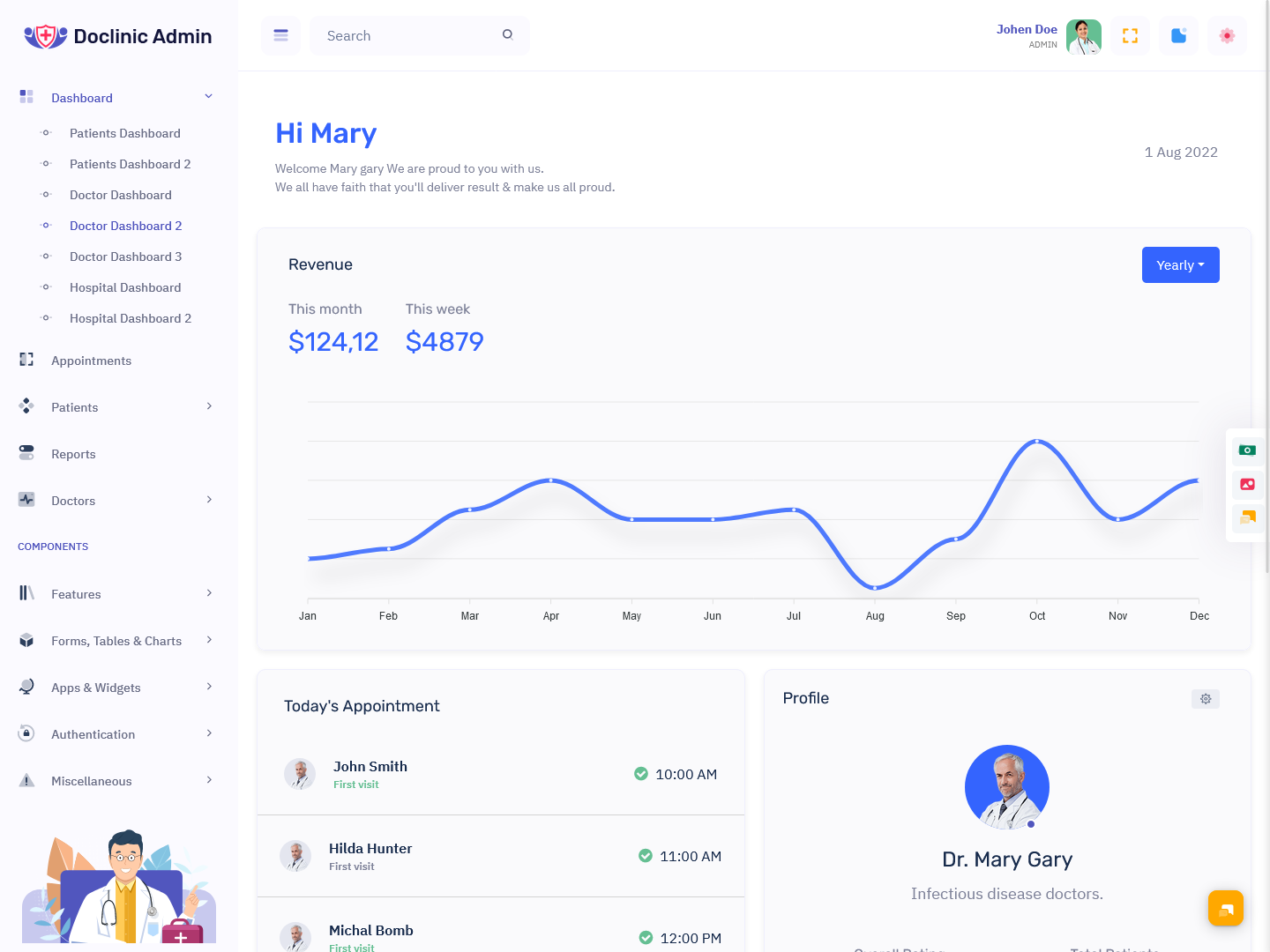 Admin Dashboard Template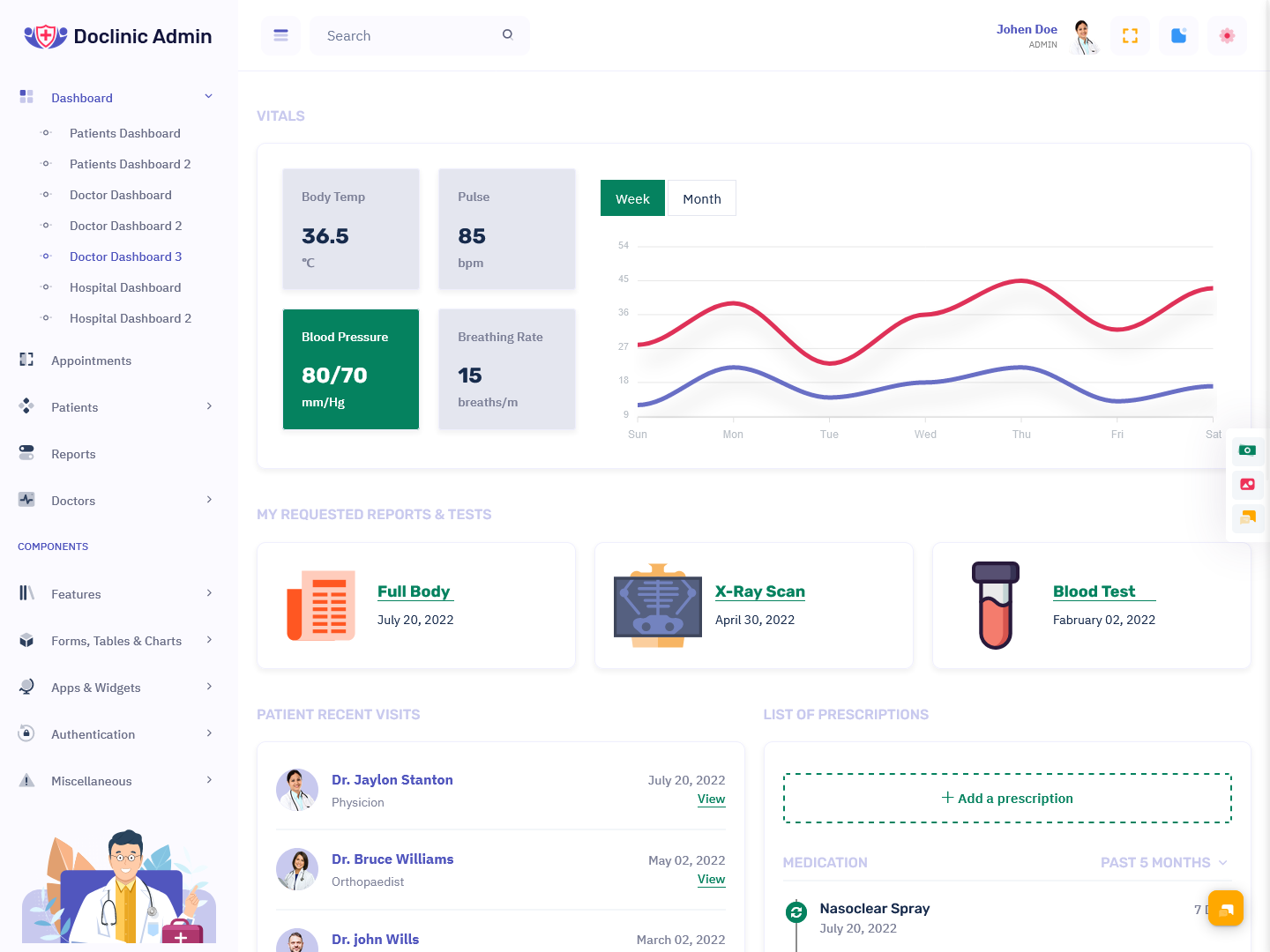 Medical Dashboard Template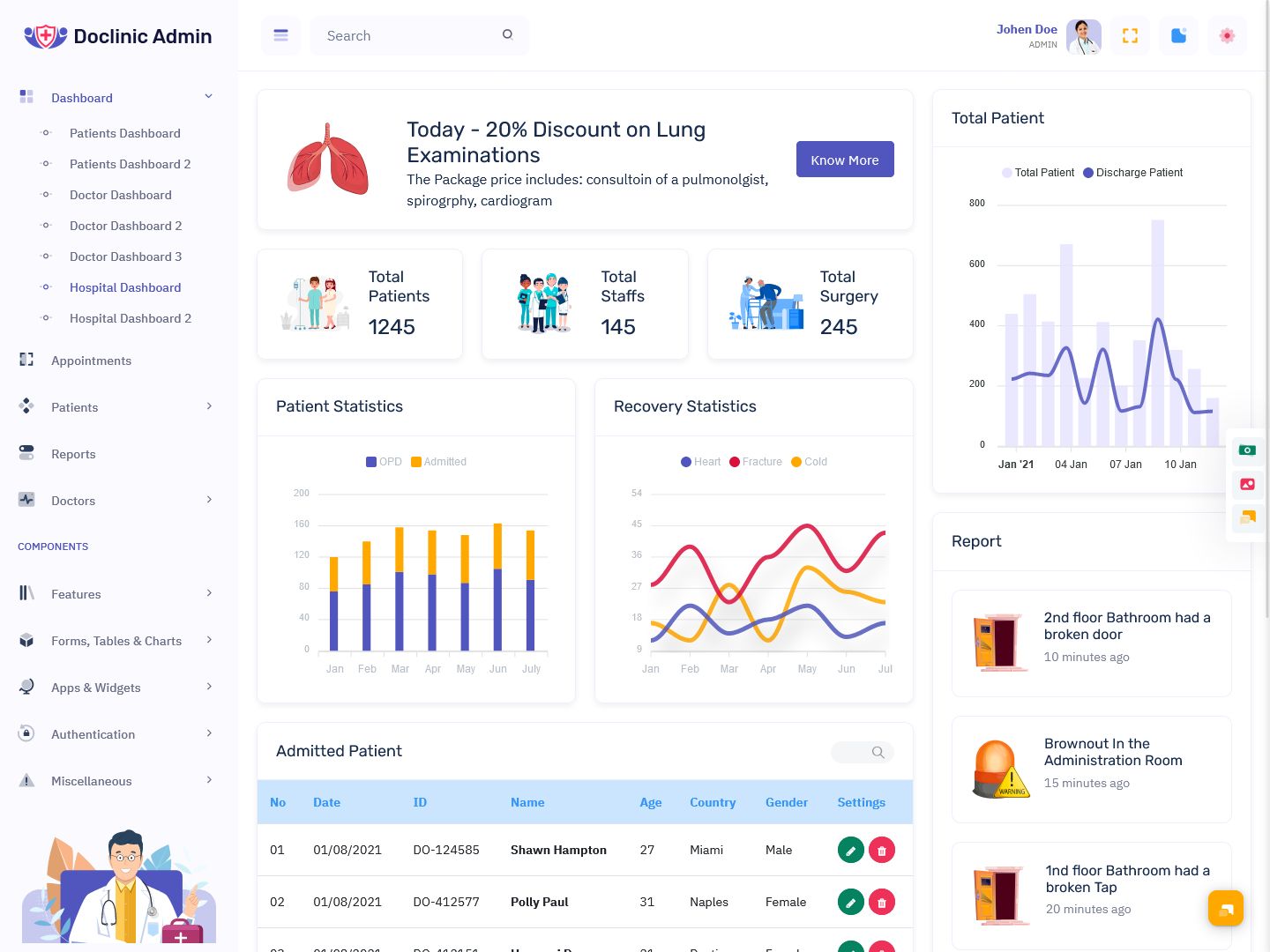 Healthcare Admin Dashboard 

Horizontal Admin Dashboard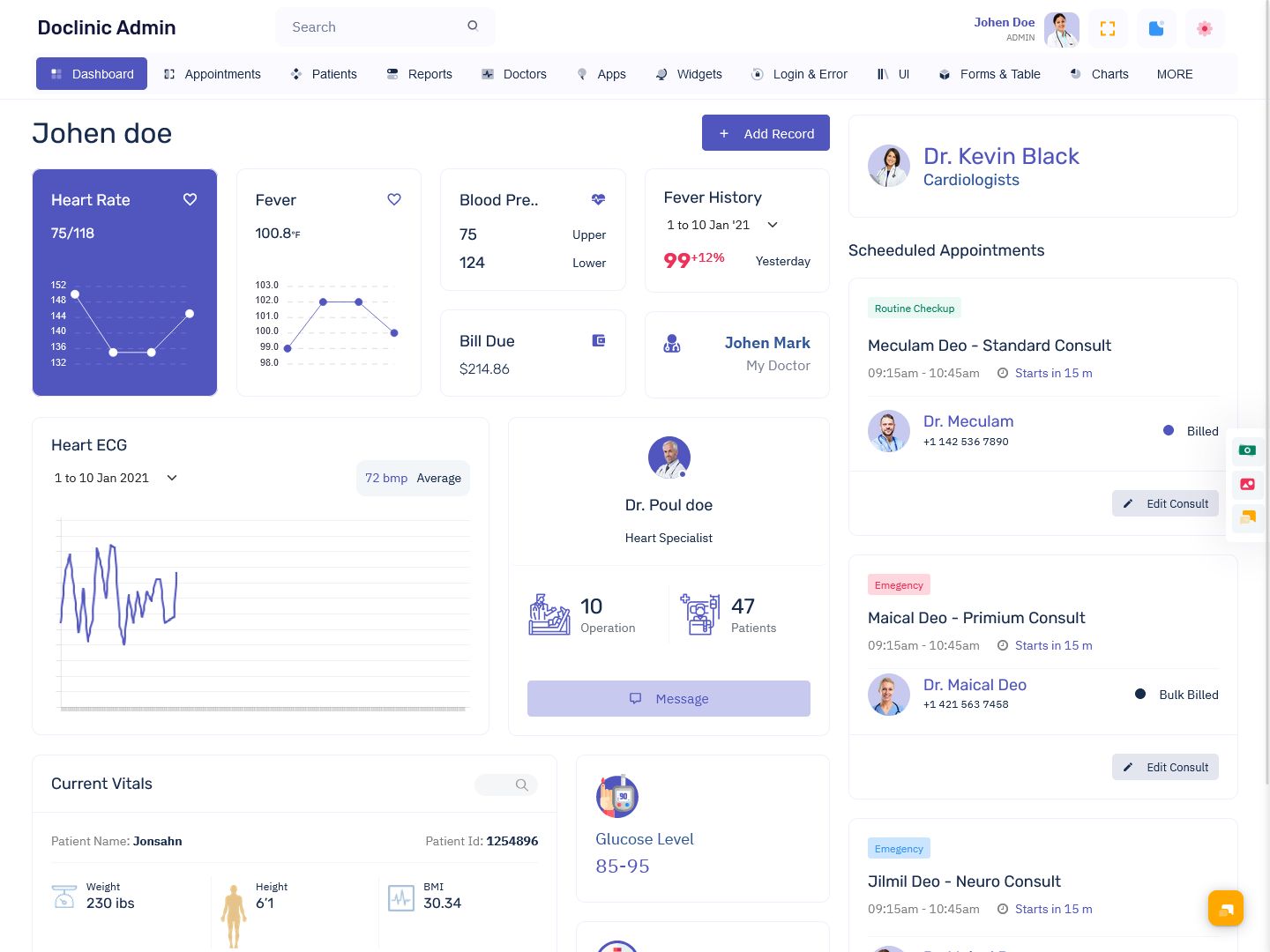 Dark Admin Dashboard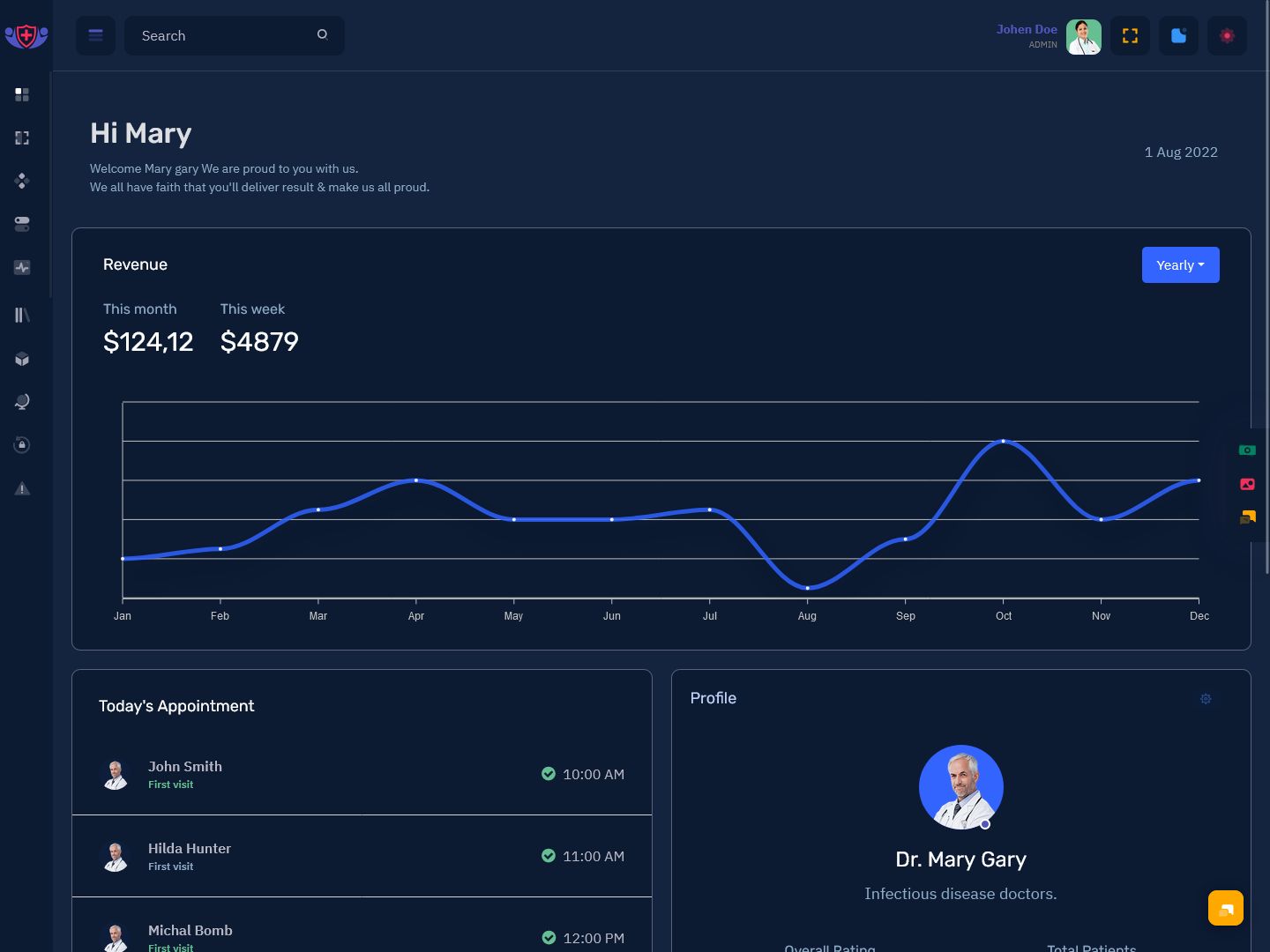 Frontend Home Page


What exactly is a medical dashboard?
First, attempt to visualize the enormous volumes of data handled by the healthcare sector. In addition to patient information like EMRs (electronic medical records), length of stay (LOS), or the number of occupied beds, the pool of Healthcare Dashboard data sets also contains financial, administrative, and other data required for running a healthcare facility. To monitor their performance, many healthcare organizations utilize data-driven Key Performance Indicators (KPIs), which collect a wide range of data on crucial performance parameters.
You need to make sure that all these important features are available in the Medical Dashboard Admin Template that you select. Then you will be able to boost the overall performance of the admin dashboard with ease. On the other hand, you will also be able to enhance the performance of your healthcare facility. All you have to do is to empower right people in your hospital to use the hospital dashboard to get their work done.
How can a medical dashboard benefit you?
The major issue with data processing in the healthcare industry is that several departments are responsible for gathering and analyzing this data. Accurate comparisons are very difficult since the data is gathered, modified, and stored in various ways. It is obvious that the individuals working with this data want to get more knowledge and a better understanding of the data acquired, which is why they attempt to utilize Responsive Admin Dashboard Template that paint a clearer and more transparent image of their healthcare business.
A Medical Dashboard Template is a sophisticated platform for healthcare analytics that combines data from several sources, gives an in-depth picture of the performance indicators for the whole hospital team, and allows for quick data analysis and use. These technologies' major goals are to enhance reporting and data analysis, get rid of inefficiencies like bad or inaccurate data, and provide insight.
Who can use the medical dashboard?
Even though healthcare companies might vary in size, all hospitals have a number of stakeholder groups. Each of them needs real-time data to be able to carry out their daily tasks as well as to figure out how to improve things:
These folks need a comprehensive view of the system's operation at all levels in one location. Healthcare Dashboard indicators enable them to monitor the effectiveness of the hospital in terms of both financial efficiency (such as expenses and admissions) and therapeutic success rates (LOS, diagnosis by department, etc.). They can make better judgments, enhance the quality of care, offer more effective resource management, reduce costs, and optimize workloads by being aware of where issues exist and where opportunities for innovation may exist.
Analysis of medical staff data is essential to evidence-based medicine. Clinical data are used to teach physicians. They are instructed to evaluate patient treatments using information from medical texts. Therefore, a single Bootstrap 5 Admin Dashboard incorporating all patient data is a useful tool for tracking the success of therapies and evaluating physicians' performance against that of their peers. This is a practical strategy to improve patient happiness and professional performance.
Federal and/or State Organizations
These agencies must monitor the operational efficiency, safety, financial standing, and credit ratings of healthcare providers. Healthcare Medical Dashboard are used to track how various healthcare systems compare to one another in this context.
These stakeholders need information consolidation and openness. Patient satisfaction is increased when they may choose a hospital or monitor the progress of their treatment with the aid of a Dashboard Admin Template with an easy-to-use interface.
Final words
Now you know how a medical Healthcare Dashboard can benefit. Continue to pick the right Admin Template and you can take your admin dashboard to the next level. It would surely benefit your healthcare facility and patients.