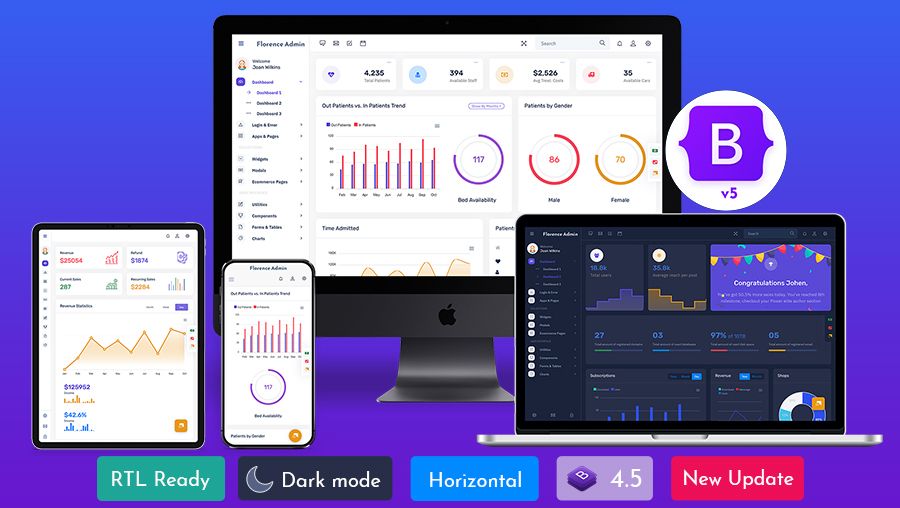 Why should you think about using Bootstrap for Admin Dashboard design?
Reading Time:
3
minutes
If you are currently working on the design of an Admin Dashboard, you should think about following the best approach to get that designed. This is where you can take a look at the Bootstrap 5 Admin Templates. People who use Bootstrap admin templates for the design of dashboards can expect to receive numerous benefits. Here are the most prominent benefits out of them. You just need to take a look at them and pick the right one out of the bootstrap admin templates.
You can code without a struggle
It is possible for you to make your life easy with coding as you continue to use Bootstrap. There is no need to have any background in web development to proceed with coding. That's because you will never view coding as a challenging thing to do when you are using Bootstrap. You can make the entire process easy.
Bootstrap can do most of the work for you. You just need to have little experience with CSS and HTML to get the job done. This will provide the benefits of having access to a customized admin dashboard, which delivers a rich functionality.'
You can find a lot of templates
There are lots of templates available for you to use when you are using Bootstrap. We can consider it as another benefit that you can expect to receive. That's because all you have to do is to pick the right template as per your choice and continue to use that. While keeping your objective in mind, you can look for the perfect bootstrap 5 Admin Dashboard Template. For example, assume that you are looking to create a crypto-related dashboard. Then you should be taking a look at the Crypto Admin Templates. You can pick the best Bitcoin CryptoCurrency Template or Cryptocurrency Dashboard Admin Template as per the needs you have.
You can get customizable page elements
After you select the right template, you don't always have to stick to it. That's because you will be able to customize the templates according to the expectations you have. For example, you will be able to customize the buttons, code, typography, labels, tables, forms, and many other features as per the needs you have. Customization is an important thing that you should do when you are working on an admin dashboard. Hence, it is important for you to proceed with customizing the templates and get the maximum results.
It offers a responsive design
At the time of designing an Bootstrap Admin Dashboard these days, you must take a look at the responsiveness of it. However, focusing on responsiveness would not be a major deal when you go ahead with Bootstrap. That's because Bootstrap is incorporating responsiveness right into the design. You can make sure that your landing pages would adapt according to the devices used by someone who is accessing your website.
You can create other pages quickly
Bootstrap will not just assist you to create the Responsive Admin Dashboard quickly. It can also provide assistance to you with creating the other pages within a short period of time. You will be able to proceed with using the ready made coding blocks to set up the pages. On the other hand, you can get the support offered by cross-browser compatibility and CSS-less functionality. You will get the opportunity to save your time on coding. Hence, you can easily develop landing pages faster. You will also be able to use the ready-made themes available to get the job done without a struggle.
You can add visual components
Adding visual components to the landing pages would not be a struggle as you continue to use Bootstrap as well. You must make sure that the landing pages you build come along with appropriate visual components. You can easily add the visual components you want with the support that Crypto admin templates and other Bootstrap Admin Templates are offering. This will eventually help you to build visually appealing landing pages.
If you are impressed by these reasons, you can go ahead and start using Bootstrap for your Admin Dashboard designing related work.