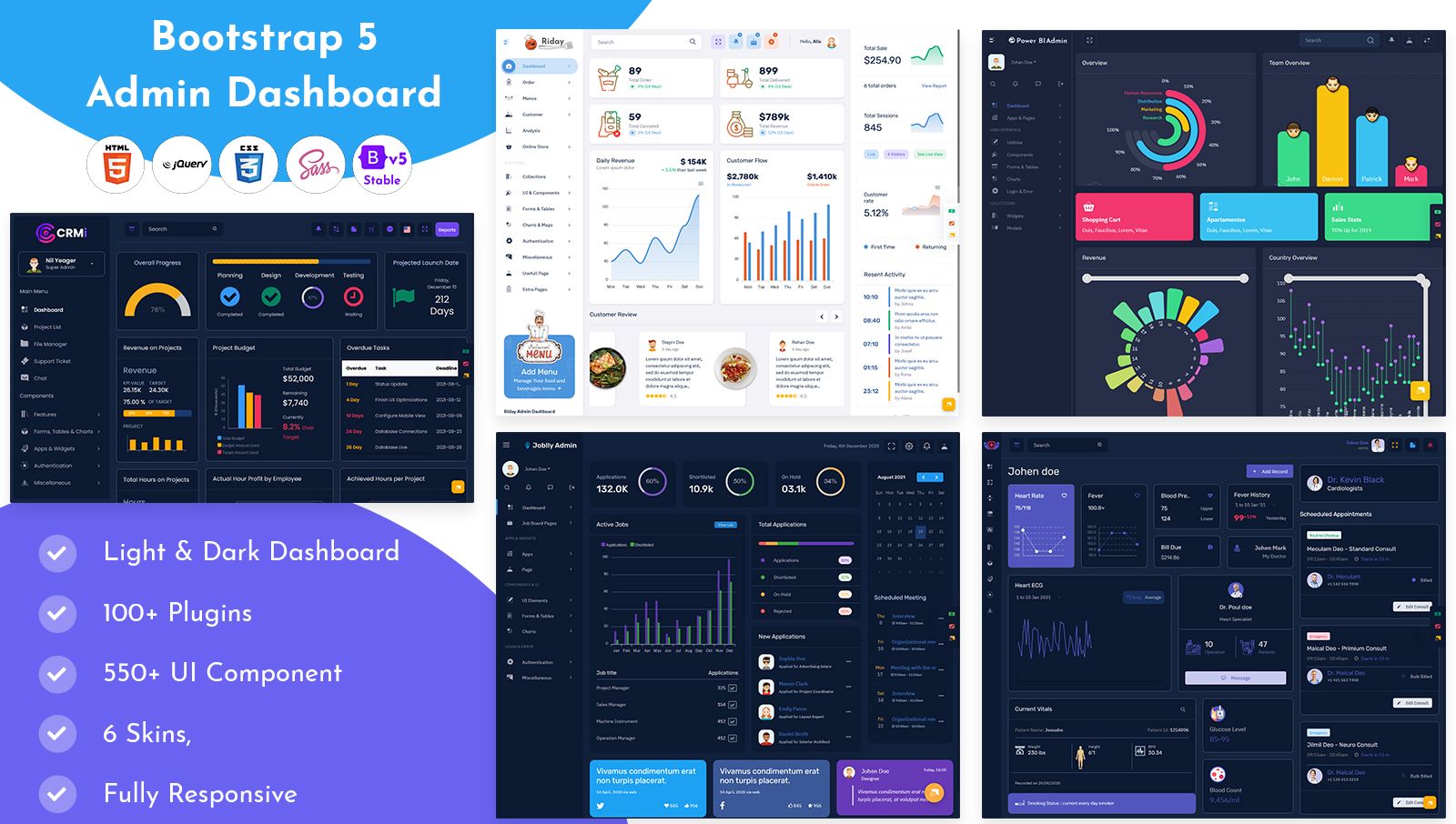 Everything you need to know about Bootstrap Admin Templates
Reading Time:
3
minutes
You don't have to handle everything from the start when planning and creating a web application. That's because you'll be able to use the Bootstrap Admin Templates and take advantage of all of their features. However, before you begin using Bootstrap admin templates for your benefit, you need to have a thorough grasp of them.

What are Bootstrap admin templates, exactly?
Bootstrap admin templates are a collection of web pages that include built-in CSS, HTML, and JavaScript. You will be able to make use of them and continue working on user interfaces. In reality, the primary purpose of an Admin Template is to aid you in designing a website's backend interface. You may think of them as a fantastic way to manage all of the backend duties related to your website, such as managing users, maintaining the general website, and managing content. Even if you need to customize any software programs that are operating on your website, Bootstrap templates will help you get the job done.
There are many different kinds of admin templates to choose from. You may choose the finest Bootstrap 5 Admin Template from among them based on your requirements. You'll see, for example, that there are LMS admin templates, e-learning admin templates, Crypto Admin Templates, and a variety of other possibilities. At the time of creating an online learning platform, it is a must for you to use an online learning admin template. However, discovering that perfect admin template will never be a challenging one. You have the freedom to pick it from a list of templates and proceed without a challenge.
What is the best way to use the admin templates?
You should also have a firm grasp of how to work with the Admin Panel Dashboard. We will demonstrate how to utilize them in conjunction with an eCommerce website to ensure that you have a thorough knowledge. If you stick to these fundamentals, you'll be able to achieve fantastic outcomes.
Include distinct call-to-actions that stand out among the crowd.
There should be an obvious call to action on your product landing page. These calls to action should be distinct from the others. Otherwise, you won't be able to draw people's attention to the call to action. Furthermore, you will be prevented from achieving beneficial outcomes with the Admin Theme you use.
When seeing the call to action from the perspective of a visitor, you must ensure that it captures your attention immediately. While navigating through that area of the website, it should be the very first thing you need to view. If this isn't the case, you should go ahead and make an attempt to improve the call to action. Otherwise, obtaining positive outcomes would be a challenging effort as well.
You should also make certain that the color choices for the call to action are appropriate. Then you'll be able to put them on display in an appealing way. Furthermore, you will be able to ensure that the call to action offered on the product landing page is difficult to overlook.
You should also consider including social proof on the landing page. It has become one of the most crucial elements to include in your eCommerce landing page. The landing page's efficacy and trustworthiness can both benefit from having social evidence. People are influenced by the social evidence on the landing page. As a result, customers will be compelled to click on your call to action buttons. To achieve the greatest outcomes, you should consider using social evidence, particularly from professionals such as social media influencers and celebrities. This is one of the most crucial landing page recommendations that you should not overlook.
Final words
As you can see, a Bootstrap 5 Admin Template may be quite useful when it comes to creating and constructing a website that meets your specific requirements. You may search for the best admin templates available while keeping this in mind. Then you can be assured that you will have fantastic outcomes, which the admin templates are capable of providing. Always take your time and browse through available admin templates before you select one out of them to use.