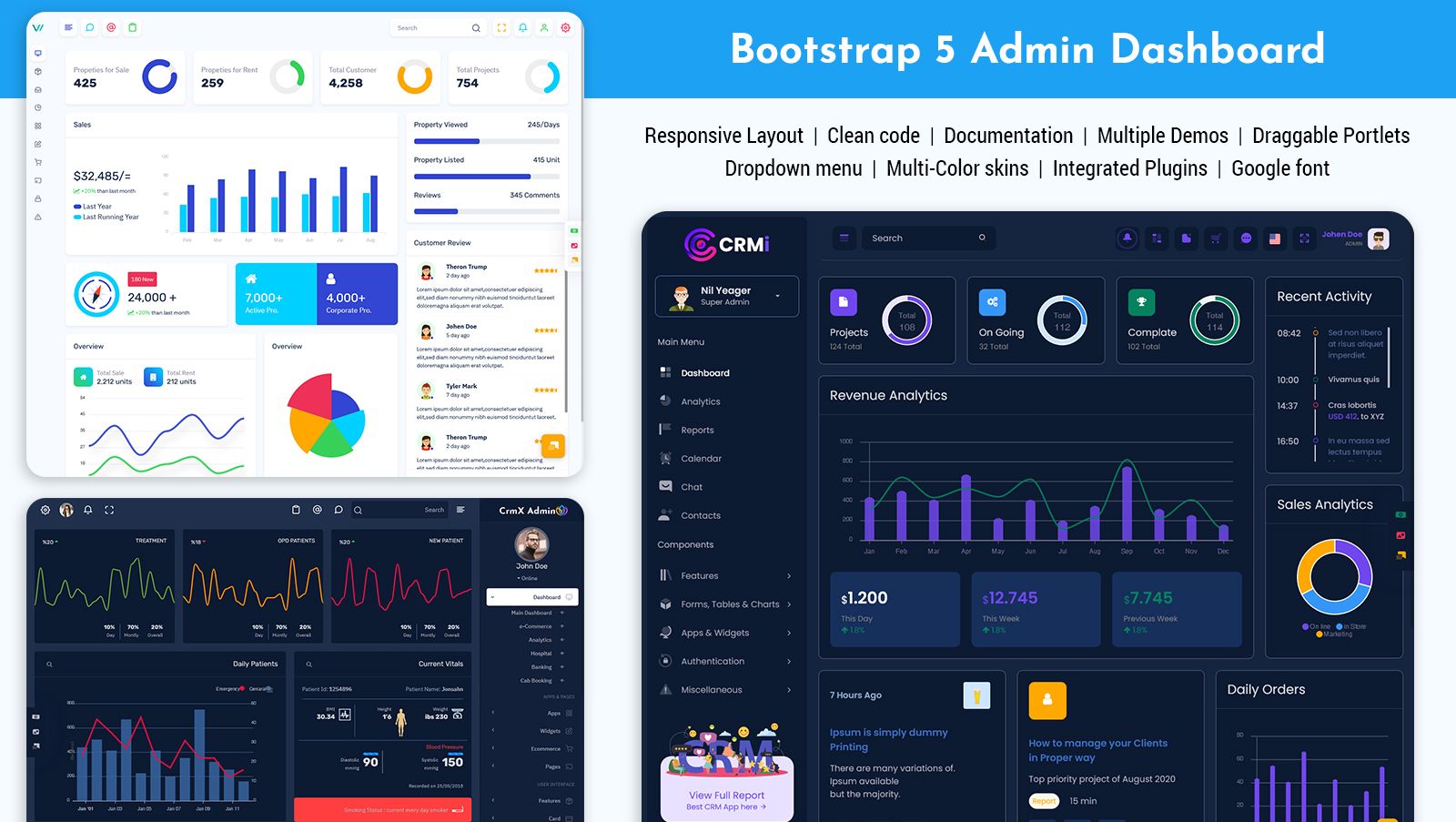 5 important qualities that a CRM Admin Dashboard Template should have
Reading Time:
3
minutes
Regardless of the nature of your business and the industry you operate on, you will need to start using a CRM. In fact, both B2B businesses as well as B2C businesses can experience multiple benefits by starting to use a CRM. While keeping this in mind, it is also important to get hold of the best CRM that is available for purchase out there. That's why we thought of sharing details with related to 5 qualities that a CRM should have. If you are trying to get a new CRM or develop a CRM with the help of a CRM Admin Dashboard Template, you will need to keep these facts in mind.
The ability to efficiently organize and synchronize your contacts.
All information and interactions with a specific client should be stored in key contact management. This includes any phone conversations, emails, or presentations you've made. For betting customer service, data may be accessible by different people inside the organization if necessary. A decent contact management function will also allow you to import your contacts and synchronize them with third-party programs such as Microsoft Outlook, Gmail, and Yahoo.
Customer service is available 24 hours a day, 7 days a week.
Before choosing a vendor for deployment, look at their website. Clients must have access to a support desk with live chat and a telephone hotline 24 hours a day, seven days a week. For optimal response, there must be the ability to log support tickets, and responses must be provided within one to two hours.
Ease of use and simplicity
Usage concerns are critical for a firm that is just migrating to CRM software, since it must be something that salespeople are familiar with. Examine a software's user interface before purchasing it: does it have a friendly-looking dashboard with easy-to-navigate icons? Consider whether or not everyone will have an easy time adopting new technology, particularly those in the older generation. Read a review and request a demonstration to discover how it all works.
If you are developing a CRM for your business from the scratch, it is better if you can take a look at the requirement and proceed accordingly. For example, you may use a HRM dashboard template and get your work done. On the other hand, people who wish to have Business Analytics information over the CRM can think about using a Power BI admin template. The time you spend on selecting the best Power BI dashboard template would be totally worth when compared to the returns that you can get at the end of the day. Hence, you don't have to think twice before you go ahead with it.
Ease of use and accessibility
In today's fast-paced digital world, enterprise mobility has become a buzzword. The ability to access sales data, timetables, PowerPoint presentations, and other similar information via smart phones and other sorts of portable devices is becoming a must. This is where CRM software's future is decided.
It goes without saying that important business data should be accessible not just in the office, but also at remote places like trade fairs and client sites. Work-at-home agents can even be used from a contact center halfway around the world from headquarters, as long as the software allows for remote access.
Automated sales and marketing processes
From conception through testing, a good CRM software can manage marketing initiatives. Some even include analytics capabilities, as well as the ability to track sales and follow up on leads. Similarly, incorporating consumer social media analytics as a method of targeting prospects and knowing their preferences is becoming increasingly popular.
Final words
Now you have a good understanding about the qualities that a good CRM should have. However, it will be quite difficult to locate a CRM that offers all these features. That's where you can think about getting a CRM developed. There are CRM developer companies, which can help you with developing a CRM Admin Dashboard Template. All you have to do is to make sure that you use an appropriate CRM Dashboard template to get started with creating the CRM. This will help you to experience all great benefits that a CRM can offer.