Sale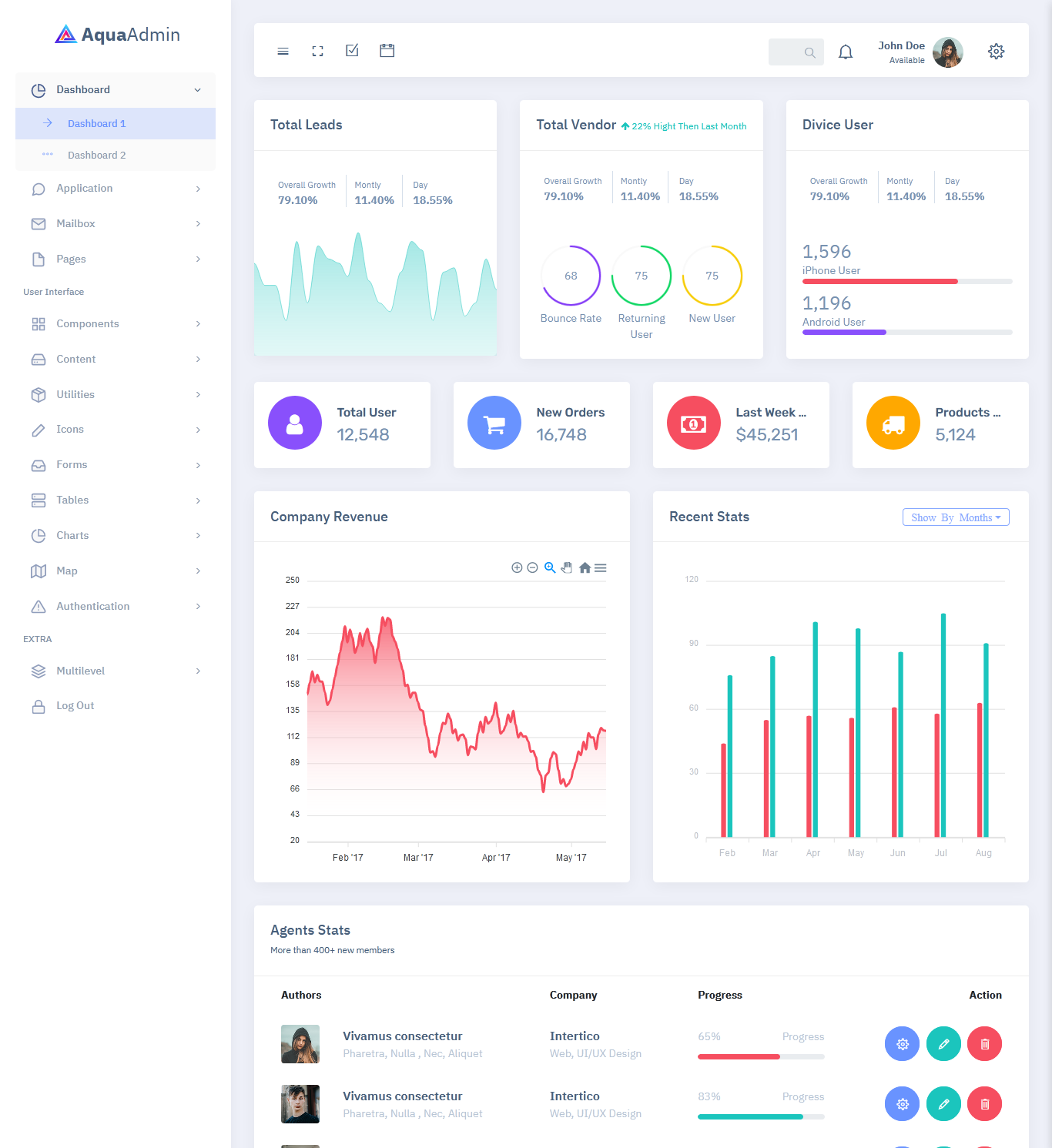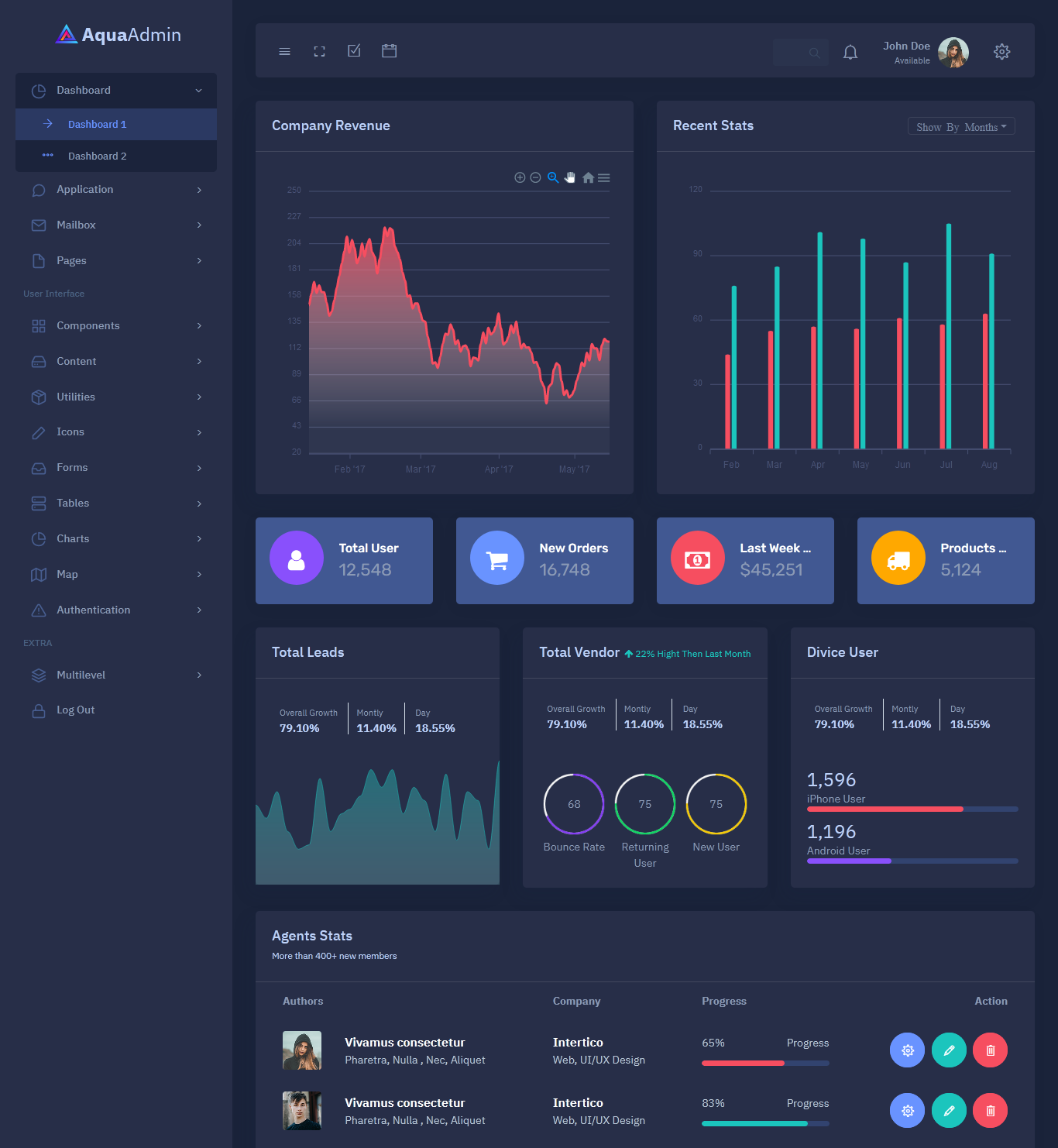 Aqua Responsive Bootstrap Admin Template Dashboard Web Apps
$39.00
Quality & Feature Rich Template
1 Year Premium Support
Lifetime Free Updates
Item Information
Created: 23 November 20
Last Updated: 29 November 20
Bootstrap Version: 4.x
Files :HTML Files, CSS Files, JS Files
Documentation: Yes
Browsers Supported: IE11, Firefox, Safari, Opera, Chrome, Edge
6 Months Premium Support
Free Lifetime Updates
Out of stock
Categories:

Admin Template, Bootstrap Admin Templates | Dashboard Templates
Tags:

admin, Admin bootstrap responsive html template, admin dashboard, Admin Dashboard Bootstrap 4, Admin Dashboard responsive template, admin dashboard template, Admin Dashboard Templates, Admin Dashboard UI Kit, Admin Panel Admin Dashboard, Admin Panel Bootstrap 4, admin panel dashboard, Admin Panel Html Template, Admin Panel interface, Admin Panel Template Bootstrap 4, Admin Panel Template With Horizontal Menu, Admin Template, Admin Templates, Admin Templates Bootstrap, AdminPanel, AdminTemplate, Analytical Dashboard, backend html admin panel dashboard template, backend template, Best Dashboard, bootstrap, Bootstrap 4, Bootstrap 4 admin dashboard, Bootstrap 4 Admin Template, Bootstrap 4 Admin Templates, Bootstrap 4 Html Css Dark Admin Template, Bootstrap 4 light admin template, Bootstrap Admin Dashboard Template, Bootstrap Admin Grid Template, Bootstrap Admin HTML, Bootstrap Admin Template, Bootstrap Admin Templates, Bootstrap Admin Web App, Bootstrap Backend, Bootstrap Control Panel, Bootstrap Dashboard, Bootstrap html admin template, Bootstrap Panel Template, Bootstrap Simple Admin, Bootstrap Simple Light Admin Site Template, Bootstrap Templates, Bootstrap UI Kit, Bootstrap4, Bootstrap4Admin, Bootstrap4AdminDashboard, business charts admin responsive template, calendar, charts, Charts admin html5 responsive template, clean, Clean admin html5 responsive template, clean professional html5 css3 admin html template, CMS, Coinbase Dashboard, corporate, Corporate business admin dashboard template, creative charts clean html5 jquery admin template, crm, CRM Portal dashboard, Crypto Admin, Css Admin Template, Css Dashboard Template, CSS3, Css3 responsive html template, dashboard, Dashboard Admin Templates, Dashboard Design, Dashboard html clean responsive template, dashboard template, Dashboard Templates, Dashboard Ui, Dashboard Ui Kit, easy editable admin dashboard template, eCommerce, eCommerce Templates, Ecommerce Website Template, envato, erp dashboard, HRM, HRMS dashboard, Html Admin Dashboard, Html Admin Panel Template, Html Admin Template, html template, html template admin, html website, HTML5 admin templates, html5 template, HTMLTemplate, Jquery Html Admin Panel Template, Jquery Nice Bootstrap Panel, light weight admin simple dashboard template, Lightweight Bootstrap Admin Template, material, Medical, mobile, mobilefriendly admin dashboard template, Modern, morden clean professional admin html template, multipurpus admin theme dashboard template, pages, pages dashboard, PHP Framework, Premium, premium admin dashboard template, Premium Admin Template, Premium Admin Templates responsive, Professional Website Templates, responsive, Responsive Admin Dashboard, Responsive Admin Dashboard Template, Responsive Bootstrap 4 Admin, Responsive Design Css, Responsive Web Application Kit, retina, Saas Dashboard, sass, Sass admin template, sass dashboard, sidebars, Simple Admin Panel Template, Simple Admin Theme, template, Template Admin Bootstrap 4, ui, ui framework, ui framework ux-ui admin template, uid, uiframework, uiwebkit, web apps, Web Dashboard, Web Hosting Theme, webapp, webapptemplate, webkit
Description
Aqua Admin Dashboard is a fully responsive Bootstrap Admin Template for Data analytical & eCommerce concepts and theories.
Aqua Bootstrap Admin Template a clean way to use the design for your dashboard projects. This can be used for admin dashboard Applications for your online applications.
It is a unique dashboard with features visits, monthly revenue, and performance tracking. We have developed this Aqua admin template by the unique and minimal look of the CRM software. Bootstrap 4 latest with SASS.
Aqua Admin Dashboard – Responsive Bootstrap 4 Admin Template Dashboard Web Application. The Admin HTML template can be used for online applications and software. Clean, Modern, New, Creative look for your application. This comes with SasS.
Notification and Sales Volume are creative new features.
You can track and analyze your job statistics from our HTML template plugins and widgets. Modern looking HTML Template on Bootstrap 4 latest platform.
Applications
Chats
Contact
Support Ticket
Event Calendar
User Profile
Userlist grid
Userlist
UI Kit
Badges
Buttons
Floating Action Buttons
Carousel
Modal
Dropdown
Sortable
Nav
Breadcrumbs
Pagination
Alert
Callout
Tooltip
Accordion
Tab
Process
Progress bar
Spinner
Timeline
Timeline activity
User Cards
Sweet Alert
Notification
Advanced Medias
Badges
Dropdown grid
Dropdown menu
border
color
Draggable Portlet
Bootstrap Switch
Date Paginator
Horizontal Timeline
Nestable
Ribbons
Form
General Form Elements
X-Editable
Advanced Form Elements
Form Validation
Form Wizard
Code Editor
Markdown
Editor
Formatter
Chart
ChartJS
Morris
Flot
Inline charts
Peity chart
Error Page
404 Error
500 Error
Maintenance
Tables
Basic Tables
Data Tables
Editable Tables
Email
Welcome Email
Verify Email
Change Password
User Update
Expired Card
Closed Account
Box Cards
Advanced Box
Basic Box
Box Color
Group Box
Layout
Boxed Layout
Fixed Layout
Sidebar Collapsed
Sample Page
Blank Page
Pace page
Coming Soon
custom_scroll
FAQ
Gallery
Lightbox
Pricing
Invoice
Authentication
Login
Register
Register 2
Lock screen
Widgets
Statistic widgets
Chart Widgets
Social widgets
Weather
Blog widgets
Widgets
List widgets